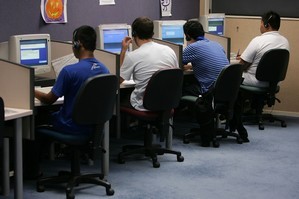 Eighty new jobs have been created in Auckland by Canon, which has defied international trends by setting up a call centre in New Zealand.
Canon New Zealand and Australia have merged their transtasman call centre operations on Auckland's North Shore, rather than outsource the work to a low-cost country such as the Philippines, as other New Zealand firms have done in recent years.
The new centre is to be officially opened today by Prime Minister John Key.
Previously, a Sydney call centre dealt with Canon's Australian customers, while a centre manned by 12 staff in Auckland looked after the New Zealand side of the business.
Canon New Zealand's country manager, Mike Johnston, said Canon Australia had wanted to improve its customer service in an economically viable way, and had considered all the "usual suspects" before deciding on the North Shore plan.
"It's going against the trend of exporting call centres overseas."
Mr Johnston said Canon Australia recognised the benefit of New Zealand's lower rents, more flexible work environment and favourable exchange rate.
The fact that New Zealand was an English-speaking country gave it an advantage over other countries which had been considered, Mr Johnston added.
"New Zealand and Australia also have similar cultures and expectations and, with so many Kiwis living in Australia, hearing a New Zealand accent is not unusual for an Australian customer."
Kenji Kobayashi, managing director of Canon Australia and chairman of the firm's New Zealand arm, said: "Having an Australian-serving contact centre in one place and under local management made good sense both economically and from a customer service perspective."
Another New Zealand company, Greenstone Energy, has signed a contract to bring its call centre in the Philippines back to New Zealand.
Greenstone, the new owner of Shell, said last month that with the 12 call centre jobs, 40 outsourced roles previously overseas were now back "in-house" in New Zealand.
New Zealand companies outsourcing call centre jobs overseas in recent years have included Vodafone, Telecom and Yellow Pages.