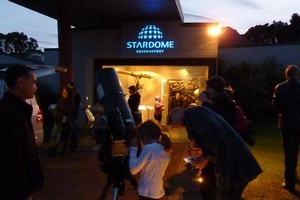 The Child Cancer Foundation wants to give young cancer patients a very special, but far-flung, gift, reports The Aucklander.
Last night, the foundation launched its new Stars of Courage programme with Auckland's Stardome Observatory.
This scheme means each child who is newly diagnosed with cancer will have a star dedicated to them. The child will receive a certificate with their star's coordinates in the sky and information on its constellation or grouping.
He or she will be able to visit the Stardome and, with the help of staff, use the powerful telescope to look at their adopted star. When they go home they should have the skills to find it again and again.
Stardome marketing manager Gina Dellabarca says the observatory is delighted to be involved in the programme. "It's great that we can help out with a very worthy cause."
Stardome works with an international organisation to find stars for adoption.
Child Cancer Foundation communications executive Megan Horsburgh says people can buy a star for $500.
"Our goal is to sell 500 stars a year which will raise $250,000. The money will go directly to fund child and family support services, which we need $3 million a year to fund."
For the full story, see The Aucklander at www.theaucklander.co.nz.

For more articles from this region, go to The Aucklander