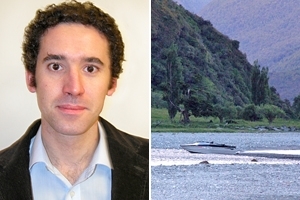 A Dunedin jetboat driver has been fined and ordered to pay reparation to the family of a British tourist killed in a river boat crash in December 2008.
Jeffrey William Donaldson, 57, this week pleaded guilty in Invercargill District Court to a charge of operating a vessel in a manner causing unnecessary danger or risk. The court sat in Dunedin.
Donaldson was at the helm when the jetboat struck a shingle bar and flipped on the Matukituki River, east of Wanaka, killing British doctor Paul Woods and injuring two other passengers.
He had earlier pleaded not guilty to the charge, but changed his plea at the conclusion of the Crown's evidence.
Donaldson was today fined $2500 and ordered to pay $25,000 reparation to Dr Woods' family.
Maritime New Zealand investigations manager Steve van der Splinter said after sentencing that Donaldson had made critical errors of judgment.
He had steered his boat full of passengers away from the safer deep waters of the main river channel, and instead took the boat down a narrower, shallower and less visible section of water.
Rather than slowing and keeping the boat straight to let it come to a stop on the gravel, which was accepted good practice, he turned sideways at speed across an expanse of shingle and very shallow water.
The manoeuvre caused the boat to "dig in" to the gravel and flip, killing Dr Woods instantly.
"By his own admission, had the skipper simply slowed down and held a straight course, the boat would have come to a stop and the accident could have been avoided," Mr van der Splinter said.
"This tragedy brings home just how quickly things can go tragically wrong, even by departing from accepted safe practice just for a moment.
"It's our hope that the lesson other boaties will take out of this tragedy is that if there is any doubt about the safety of a particular manoeuvre or course of action, they just shouldn't do it."
Mr van der Splinter expressed sympathy for Dr Woods' family and acknowledged the other victims of the crash.
- NZPA