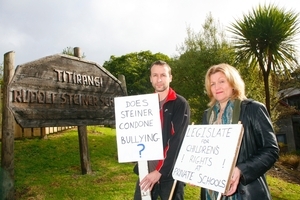 An Auckland couple are fighting their three daughters' exclusion from a private school after one of the girls complained about a group of boys bullying her, reports The Aucklander.
Angel Garden and Steve Paris say they had no idea Titirangi Steiner Kindergarten and School could ban their children without notice or need for justification, or the chance to appeal.
The school investigated the alleged bullying last year but found no cause for concern. Ms Garden says eventually, without warning, it asked the family not to return.
"When we went to the school to demand an explanation, on the record, for this sudden and violent action, they refused to talk to us, issued us with trespass notices and called the police within minutes of our arrival."
Principal Mark Thornton says the decision to sever ties with the family had nothing to do with their children's behaviour.
"We got to the point where we were no longer willing to accept the children because of the behaviour of the parents."
Education laws allow private, non-integrated schools to operate with minimal government regulation. Unlike their public counterparts, these schools may expel students as they see fit.
Ms Garden says many parents who send their children to private schools aren't aware of this. She's campaigning for schools to make compulsory disclaimers stating parents' rights, and for greater checks and balances in disciplining children.
The Law Commission recommended changes last year. However, these were axed from a bill before Parliament. Act's Associate Education Minister Heather Roy said: "No evidence exists to suggest that there are any problems with how private schools currently make disciplinary procedures available to students and parents."
For the full story, see The Aucklander at www.theaucklander.co.nz
For more articles from this region, go to The Aucklander