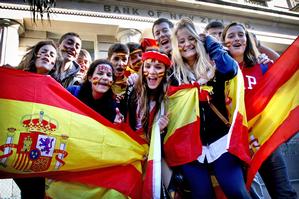 It was predicted by many as a campaign of three defeats, with New Zealand ridiculed as a bunch of part-timers there to make up the numbers.
Instead, the All Whites finished as the Unbeatables - the only undefeated team in the World Cup with three draws in the group stage, with star players being included in best of the tournament lists.
Spain may have won the cup but they were beaten in a group stage match by Switzerland. Up until their defeat in the final, the Netherlands were the only other team with the All Whites' status.
All Whites captain Ryan Nelsen was also named in American sports channel ESPN's "World Cup Best 11" as one of the best centre backs at the tournament.
The channel praised Nelsen for his "defiant" and "heroic" defence, which they described as a major part of the All Whites' success.
The Sunday Times in Britain called New Zealand's game against Italy "the match of the World Cup" and praised both the team's "incredible" unbeaten record and their attitude.
Nelsen and goalkeeper Mark Paston were also listed twice each in the top 10 performances at the World Cup by the Guardian newspaper.
Ryan Nelsen came third for his performance in the draw against Italy and fifth for the game against Paraguay. Mark Paston made it for his saves against Italy and Paraguay.
While Spain won the cup, the All Whites won the hearts of the world.
After the game yesterday, Queen St was filled with Spanish supporters - faces covered with red and yellow paint, and draped in the distinctive red and yellow flag.
Spanish supporter Marta Folgado said that her country had "made history" by winning.
"It's the first time we've won the World Cup. There are no words to express how I'm feeling."
Ms Folgado said that the Netherlands had played very well. "They could also have won."
She put the win down in large part to goalkeeper Iker Casillas, who she described as her favourite player in the team.
Fellow supporter Celia Sanchez said she was "very excited" about the win. "I'm very, very happy."
The girls' group was from Spain and was in New Zealand for three months. Ms Sanchez said they were on their way to Devonport, where they were planning to "party all day".
Michel Jaminon, the only person on Queen St wearing the Dutch colours, said the game was a close one, and there had been an element of luck involved. Mr Jaminon, who is in New Zealand for four months, said he was still proud of his team - "I'm going to celebrate our third final".
For some Spanish supporters, going to work was not an option. Nora Garcia said she and her friends would take the day off.
"We're going to be celebrating for the rest of the day, the rest of the week, the rest of the month."