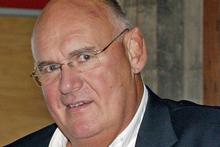 Former All Black Andy Haden's resignation from his Rugby World Cup (RWC) ambassador role was the right outcome, Prime Minister John Key says.
Haden resigned over the weekend - after RWC Minister Murray McCully had made it clear it was incompatible for him to remain in the position - following inappropriate comments about rape.
He previously survived a sacking when he apologised for causing offence with his claim on Sky TV's Deaker on Sport programme that the Crusaders rugby franchise had race-based selection policies which restricted recruiting to only three "darkies".
On the same programme this week he commented on historic sex allegations against former All Black Robin Brooke, made by two unnamed women, one of whom has subsequently spoken to police.
Mr Key yesterday said Mr McCully had made it clear that it was incompatible for Haden to remain in the position following his comments. "In the end the right outcome has been achieved," he told media in Hanoi, Vietnam.
Haden had made his own decision to leave but Mr McCully gave a clear direction, he said.
"I don't think there was a lot of ambiguity in his statement on Friday."
Mr Key did not believe Haden should have been fired following the first incident, saying the Government had been "prepared to take risks and back some people that have made statements which are more contentious than other individuals", such as Families Commissioner Christine Rankin. However, a pattern had emerged with Haden and he had had to make a choice between broadcasting shock-job and RWC ambassador.
Mr Key said Haden's comments were offensive, and that New Zealand was a country which "stands up against rape or any kind of statements that would sanction some form of rape". "I found the comments disappointing."
The ambassador positions were not paid and the Government would not necessarily replace Haden.
In his email to Mr McCully, Haden said he was resigning "to ensure that neither your leveraging initiatives or the game of rugby that I love are compromised by the current media backlash to the comments I have made on television recently.
"I feel that to stay in the role, given the current media beat-up, would mean having to remove myself from making public comments on the game or related issues," he wrote.
"I have always believed in saying what I think, and I will always be true to myself in that regard and it's a sad day for society when people such as I are unable to express what we believe without a media beat-up from those with sectional interests."
- NZPA