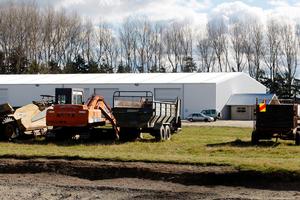 The Crafar farms. Photo / Christine Cornege
Prime Minister John Key says he doesn't want New Zealanders to become tenants in their own country as foreign companies seek to buy up farms, and the Government may look at law changes.
Landcorp today threw its hat into the ring bidding for the Crafar farms. Natural Dairy, fronted by New Zealand-registered UBNZ, has an agreement with the receivers to buy the Crafar farms, but it is conditional on Overseas Investment Office (OIO) consent. Bids for the 13 dairy farms and three drystock properties are due by 4pm on Wednesday.
Green Party co-leader Russel Norman welcomed the Landcorp bid but said a long-term solution was needed. He said Mr Key needed to spell out what he would do and said land should not be sold but foreign companies could be allowed to lease land.
"I think he is giving mixed messages about it and obviously from our point of view we think New Zealand land should remain under the ownership of New Zealand citizens or permanent residents and shouldn't be sold to foreign ownership."
Mr Key is in China on an official visit and Dr Norman said he would be under "immense pressure from the Chinese government to ensure there are as few restraints as possible on inbound investment into New Zealand".
Mr Key said he could not comment directly on the Crafar farms issue because it was before the OIO.
Asked if his preference was for the land to stay in New Zealand hands, Mr Key again said he could not comment but added: "As a general and broader principle I think New Zealanders should be concerned if we sell huge tracts of our productive land.
"Now, that's a challenging issue given the state of the current law and quite clearly it's evidentially possible and has been achieved that individual farms can be sold. Looking four, five, ten years into the future I'd hate to see New Zealanders as tenants in their own country and that is a risk I think if we sell out our entire productive base, so that's something the Government will have to consider."
Dr Norman said there were dangers for New Zealand's brand, regulation and economy should such sales go ahead.
The Chinese Government had an "understandable" policy of buying productive land around the world in order to guarantee food supply, Dr Norman said.
"The dangers we see from that is it is vertically integrated, so they will be producing the milk and processing it and sending it straight back to China."
New Zealand products benefited in China from a reputation of safeness, he said.
"We'll lose control of that, so if they make a mess of it and sell bad milk products back in China then the whole of the New Zealand export sector will suffer, particularly the milk sector," he said.
He argued that increased trade since 2008 when New Zealand and China signed a free trade agreement was not about the deal but was due to increases in timber exports, as China tried to meet its building boom, and in milk solids as people looked for safe products after the Sanlu disaster.
"Its the great irony which nobody wants to talk about. Everyone says it's the free trade agreement, it's not true," Dr Norman said.
He said overseas investment rules needed to be tighter and he was concerned about a review to make them more business friendly.
- NZPA