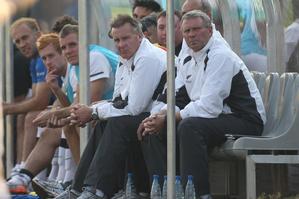 The All Whites' outstanding World Cup showing has almost certainly guaranteed they will follow the same qualifying route for Brazil 2014.
On their arrival in South Africa the ongoing rumblings pointing to what was perceived as a soft ride to the 32-team finals continued.
But the on-field performances silenced many such critics and almost certainly assured the survival of the Oceania Football Confederation and the guaranteed half place in the World Cup qualifying competition.
"The All Whites' success was viewed very favourably. They [Fifa] paid credit to New Zealand Football and are well aware of the progress we are making," said NZF chairman Frank van Hattum. "The pressure was on not just us but Oceania as well to produce credible results. We did that.
"We have learned how not to lose - now we have to learn how to win.
"Of the question of us moving into Asia, we don't get a choice when it comes to disbanding Oceania and really at all levels apart from the All Whites there are real positives for us remaining in Oceania with direct entry to all tournaments - apart from the men's World Cup.
"We [Oceania] are trying to convince Asia that we should be given a spot in their final phase and be part of a 10-team play-off to find five teams for the World Cup finals," said van Hattum.
"But the Asians have real concerns about the travelling that would involve. They find it bad enough having to go to Australia, let alone New Zealand.
"As it stands now we will again play-off home and away with the fifth-best Asian team for a place in the finals in Brazil.
"Australia are finding being part of Asia is a real financial burden."
The All Whites are set to return to the playing field in one of the four remaining Fifa windows this year but where and against whom has yet to be determined.
Van Hattum said the double Fifa window in October is their preference but he would not be drawn on who the likely opponent will be or whether the game would be played in New Zealand.
"The team [All Whites] has to play but it would not be fair to expect the players to play in every Fifa window," said van Hattum. "There is another opportunity in September but that is only a short window and would not be practical."
There is no doubt the national side are now seen as a saleable commodity and unlike the past when they have had to rattle the begging bowl to get games, van Hattum said he is confident the All Whites will appeal as worthy opposition.
While the very best - teams ranked in the top 15 - might be reluctant, there is little doubt teams ranked between 20 and 70 will be keen to play. It is just a question of where and when.
And it seems likely Ricki Herbert will remain as head coach - if he wants to.
"Ricki is so passionate about what he is doing and has already indicated he is keen to continue," said van Hattum. "It is a decision he and we are not going to rush. We will allow him the time he wants to make the call."
While Herbert seems likely to continue, assistant coach Brian Turner, who like all the coaching staff had a contract until the end of the World Cup, is unsure of where to next.
"I would like to be involved in some way but that is up to other people," said Turner. "When Ricki and I set out we had three main objectives. We have been able to tick them all off, which is really pleasing.
"First off we wanted to be the first to beat a European team in Europe. We did that by beating Georgia. We then wanted to be the first to get a point at a senior Fifa tournament. We did that with the 0-0 draw with Iraq at last year's Confederations Cup and thirdly we wanted to qualify for the World Cup and perform credibly. I'm sure you will agree we did that.
"We played a decent brand of football and showed the people who had doubts we fully deserved to be there.
"Now we must maintain that momentum," said Turner.
"There needs to be a co-ordinated approach across all national teams and we have to continue to ensure we have any players - like Tommy Smith and Winston Reid - who are available to us are found and monitored."