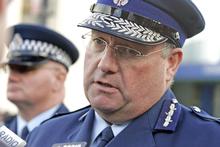 Police Commissioner Howard Broad says he will not seek another term in office when his current term finishes in April.
Mr Broad became the nation's police chief in 2006. Last night, he revealed that he had told Police Minister Judith Collins in at least two conversations of his intention to retire.
"I have said publicly that this position is both demanding and very rewarding," Mr Broad said.
"There's a range of new initiatives which are unfolding to position New Zealand Police for the future. I remain extremely proud of the police and staff and I'm confident that our organisation is well placed for the future."
Mr Broad's police career spans more than 30 years.
When he was appointed in 2006, the Police Minister at the time, Labour's Annette King, said he would bring to his new position not only frontline experience but also management skills and excellent strategic thinking.
As commissioner, Mr Broad has had to face up to several high-profile issues and controversies involving the force.
They include the Commission of Inquiry into Police Conduct, which followed a number of former police and more than one high-profile serving officer being charged with sex offences.
In 2007, the police carried out what were termed "anti-terror raids" in the eastern Bay of Plenty, and in the aftermath, various groups - including the Maori Party and Ruatoki residents - called for Mr Broad's resignation.
He said later that he could understand the hurt people were feeling and he regretted that.
Under his leadership, the police carried out trials of Tasers before he authorised their general use in 2008.
Last night, Mr Broad said changes that had been made during his term as commissioner - including the review of the Police Act in 2008 - would require reinforcement and the addition of fresh ideas.
- ADDITIONAL REPORTING: NZPA
By Vaimoana Tapaleao

Email

Vaimoana