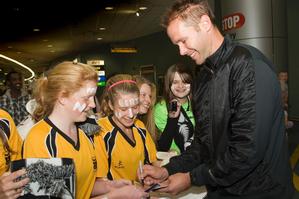 Four more All Whites flew into Auckland yesterday, with about 50 fans waiting to provide a heroes' welcome.
Among them was the All White kept busiest during the team's three-match World Cup contest - goalkeeper Mark Paston.
The group was met by friends, family, "White Noise" supporters and a vocal Massey High School girls' First X1.
"It's intense after about 30 hours of flying but it's nice," Paston said.
Although the squad members were disappointed not to have made it through to the second round, they were all glad to be home.
"It's good to be home but we're a bit upset that we didn't go the extra little bit further," said midfielder Leo Bertos.
Paston said he was proud of what the team had accomplished in South Africa. "We may not have been the most talented team in the World Cup, but we were the most unified and hard working."
Fellow squad member David Mulligan said it would have been nice to progress further, but "I don't think we would have thought we would have come away with three points without a loss".
Paston was unaware of any international offers after the team's performance, but Bertos hoped some would surface.
Paston said competing in the World Cup had put New Zealand on the map and would have benefits for Kiwi football. "The only way is up and it's something New Zealand football can build on."
Bertos said deep down he always knew the New Zealand public would embrace soccer.
"Hopefully it's awoken the giant that I always thought was sleeping. You can see how much the kids love it here. We need to take it to that next level now and keep it there."
Mike Green, who travelled to South Africa as part of the "White Noise" support tour, said the team had exceeded everyone's expectations. "We never thought they'd do this well - I think you've just got to be happy with that."
Morgan McFadden from Massey High said she and the rest of the girls' team had been waiting at the airport since 9am - almost four hours before the official arrival time. "They're like our idols, especially Mark Paston. We watched the games and we were blown away at just how well they performed after going in as complete underdogs."
The four All Whites flew on to Wellington yesterday afternoon.