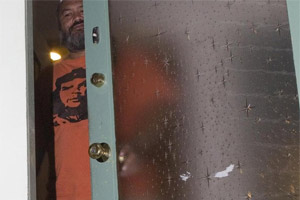 Disgraced TV and radio star David Fane last night apologised for racist and anti-gay remarks he made in a speech but his future may rest on a meeting today with his bosses.
Fane, co-creator of the hit TV3 show bro'Town, is under scrutiny after an expletive-laden rant in which he said "Jews were expendable", "Hitler had a right" and HIV sufferers deserved to be "roasted".
He made his comments at the inaugural Radio Roast media event at the Northern Club in Auckland. The audience included Mike Hosking, Kate Hawkesby and Jason Gunn.
Last night, a visibly upset Fane did not want to speak to the Herald at his Auckland home. However, he apologised on 3 News, labelling his remarks "dumb".
"I really am so very sorry for any offence I've caused you," he said. "They were dumb words - said by a dumb man ... [It was a] stupid, stupid mistake."
Fane, who is also known for his roles on Outrageous Fortune, Sione's Wedding and TV3's Radiradirah, is a popular radio host on the hip-hop and R'n'B station Flava.
This morning, he will meet his bosses at The Radio Network (TRN), which owns Flava, to discuss the matter and his future.
Flava operations manager Christian Boston said the meeting would include himself and TRN chief John McElhinney. "We will be - and maybe Dave, too - releasing a statement after that meeting."
Asked whether Fane would be on air today, Mr Boston said: "He's got the day off."
New Zealand Jewish Council president Stephen Goodman said Fane's apology supported his contention that it was simply a stupid act with no anti-semitic intent.
"It was just somebody getting carried away with the situation and saying silly things."
A colleague of Fane, who did not want to be named, said his remarks were offensive but he was "an all-round nice guy who would not have meant it".
Yesterday afternoon, a person pretending to be the comedian released a statement saying he had quit all his roles on TV and radio. It was later established that this was not so.
TV3 spokeswoman Nicole Wood said Fane was not employed by the network. He was an independent actor.
Filming of Outrageous Fortune and Radiradirah had finished and there were no plans to drop any episodes as a result of what had happened.
- additional reporting: NZPA