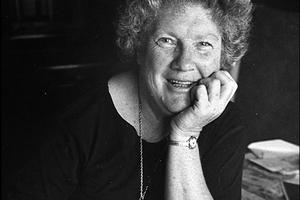 Author Karl (CK) Stead has apologised for quoting without permission from Janet Frame's work in his just-released memoir, even though he believes he was well within his rights to publish what he did.
Contacted yesterday, the author of South-West of Eden said he apologised to avoid a protracted legal battle with the Janet Frame Literary Trust, which he believed used "copyright as an instrument against a book they don't necessarily like".
"And although I have always treated Janet Frame with the utmost respect, it seems to me that does not seem to be enough for the trust, which seems to want something akin to reverence," Stead told the Otago Daily Times.
Trust chairwoman Pamela Gordon, Frame's niece, last night said she did not want to respond to Stead's claim. The trust turned to the law, received an apology, and was pleased with the outcome.
She hoped the out-of-court agreement would show it was not acceptable for anyone to publish unpublished manuscripts, or to quote from the unpublished correspondence of other authors, without asking permission of the copyright holder.
"And, the trust has also said that it will not give permission for Janet Frame's work to be used when it is used in the context of biographical misinformation. In this instance, permission was not sought," she said.
Earlier, Ms Gordon confirmed the trust took legal action against Stead and publisher Auckland University Press, alleging copyright infringements where Stead's memoir, released in March, referred to three examples of what it considered was Frame's copyright work.
The trust said Stead needed permission to use a poem derived from the first chapter of Frame's novel Owls Do Cry, maintaining the poem was quoted out of context and without permission to unfairly represent and criticise all Frame's poetry.
Stead said in an interview yesterday he believed his use of the extract was covered by what is known as "fair dealing", where work can be used as evidence or for the purpose of criticism or review.
Ms Gordon said the trust also believed he needed to ask to use a quote from the poem Our Town, which was published in the first edition of Frame's The Pocket Mirror but removed from subsequent editions because it was a "mashup" that infringed the copyright of several other poets.
Stead yesterday said he believed the poem was "concocted" by himself, his wife, Frame and Sargeson from other poems during a game at Sargeson's house, and its use was also covered by fair dealing. Stead also published from a letter sent to him by Frame, in which he said Frame apologised for something she wrote about him and his wife. The trust said Stead needed permission to publish what was also unpublished work, but Stead yesterday said he believed it could be published.
Ms Gordon said last night that the trust did not accept Stead's fair dealing defence, which she said could not be used when commenting on an author or when quoting from unpublished material.
But Stead said he and his publisher were "quite satisfied" they had not breached Frame's copyright. An apology would help avoid "a protracted legal wrangle" - going to court over elements that could easily be removed from subsequent editions of the book "didn't seem worth it".
Auckland University Press director Sam Elworthy reaffirmed Stead's position and said each of the sources were cited in the book.
They have published a statement on the Auckland University Press website, saying they regret quoting from Frame's work without permission and apologising to the trust for doing so. An apology will also be published in the next Listener magazine.
Ms Gordon said the publisher had also agreed to remove the formerly unpublished poem from subsequent editions of the book, and to either restore the missing part of the quote from the letter or remove the quote altogether.
- Otago Daily Times