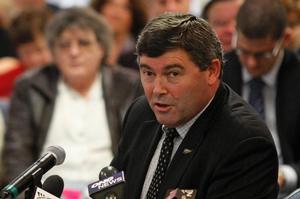 The North Shore City Council has vowed to spend all its $14.4 million honeypot on local projects rather than give to the new Auckland Council for use anywhere in the region.
Mayor Andrew Williams said yesterday the council had settled on a spending plan for 2010-11 which, with Auckland Transition Agency approval, would put all money from its NSC Holdings into community legacy projects.
"The people who paid for the works depot are getting the money returned in projects for the benefit of the community and there are also projects of regional and national benefit - the Millennium Institute and the National Ocean Water Sports Centre."
Late last month, the council, with agency blessing, sold the old Albany works depot for $11.4 million.
The NSC Holdings subsidiary, which let the depot, also had cash reserves, swelling the sum available to the council to $14.4 million.
If the NSC proceeds had been transferred, North Shore could have expected only $2.8 million out of $14.4 million to come back in projects.
Mr Williams said the Government was putting money into the water sports centre and granting $15 million to the institute.