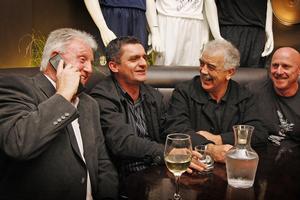 The All Whites coach - the 80s version - was last night on the phone to the team in South Africa with some helpful advice: Keep winning - or drawing.
John Adshead was coach of the 1982 All Whites team at what was then the Soccer World Cup.
Although the team did not manage to score then, Adshead was last night revelling in what he called a dream come true.
Speaking to assistant coach Brian Turner in South Africa, Adshead said: "We just pray to God that you can just take the big step ... we're right there with you.
"It's long days for us here, Brian, but keep winning - or keep drawing."
Flanked by members of the 1982 team, Adshead laughed heartily and praised the coaching team and the players for their efforts.
"The country's just amazing here, Brian, I've never seen anything like it. Please pass on our best to everybody, to Ricki and the side."
Adshead, who enjoyed a light dinner with former team members including midfielder Duncan Cole and fullback Adrian Elrick, told the Herald the 2010 All Whites had lived out the 1982 team's dream.
"They've come this far to get to the impossible," he said.
"They've taken two absolutely giant steps at the World Cup - this is the biggest event of the world - and we hope they can only go further. They have already lived our dream."
Meanwhile, a bill to make tomorrow a national holiday if the All Whites beat Paraguay is likely to be defeated.
Labour MP Trevor Mallard will seek leave to introduce the bill today.
The game against Paraguay is in the early hours of tomorrow, at 2am, and a win could put the All Whites into the second round.
The bill's explanatory note says: "Because New Zealand deserves a public holiday if the All Whites win against Paraguay on Friday morning.
"This would be a far, far better result from pool play than any we have had before. And if Bob Hawke could declare a de facto holiday when Australia won the America's Cup, then we can do better."
The bill would, however, only make tomorrow a public holiday - rather than making June 25 an official holiday every year.