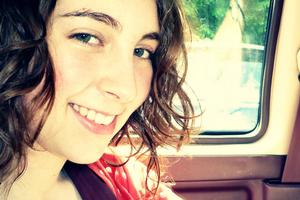 A Palmerston North courtroom was filled with sobs this afternoon as a man who organised a Manawatu bridge-swing the day Massey University student Catherine Peters plunged to her death was found guilty of her manslaughter.
Ms Peters, an 18-year-old first-year veterinary student, fell about 20 metres on to rocks below the Ballance Bridge, near Woodville, while bridge-swinging with the Massey Alpine Club on March 7.
A rope meant to keep her secure was said to be too long, and she died of her injuries in hospital hours later.
Crag Adventures director Alastair Ross McWhannell, who had sole responsibility for the activity, was charged with her manslaughter and was tried in the High Court at Palmerston North.
A jury of five women and seven men today handed down a guilty verdict, following nearly four hours of deliberations.
Many people sitting in the public gallery, supporters of both McWhannell and Ms Peters' family, began crying as the verdict was read.
Outside the court, Ms Peters' father Bosco Peters said the trial had been an ordeal for the family.
"Catherine was participating in an activity that ought to have been, and she would have thought, was totally safe," Mr Peters read from a statement on behalf of himself, his wife Helen, and their son Jonathan.
"Catherine was not a risk-taker. Catherine was the sort of teenager that helped keep other teenagers safe."
Mr Peters said his daughter's death was the greatest heartbreak.
"We were so excited with her as she began the new phase of life in Palmerston North with study to become a vet. Catherine was a gorgeous, smiling, vivacious, hard-working, kind-hearted person. She was an absolute delight."
Mr Peters thanked the many people who had supported the family through the depositions hearing and trial.
"Including the witness, who also had to re-live the heartrending details of the day of the tragedy."
During the trial, the crown said McWhannell had failed to pull the rope up to the correct length and tie it off before Ms Peter's jump.
A number of witnesses testified that, immediately after Ms Peters' fatal fall, McWhannell told them he had made a mistake.
However, in an interview with police McWhannell said as far as he knew he had tied off the ropes.
McWhannell was remanded to reappear for sentence on July 29.
- NZPA