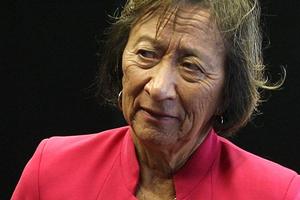 Pacific Island Affairs Minister Georgina te Heuheu must explain why she ignored warnings that a $4.8 million budget allocation was given to a risky company, Labour associate Pacific Islands spokesman Su'a William Sio says.
Mrs te Heuheu has been constantly grilled in Parliament by Mr Sio about the allocation to the Pacific Economic Development Agency (Peda), a relatively new agency set up to upskill young Pacific Islanders and improve the welfare of their communities.
Radio New Zealand reported today it had documents showing the Ministry of Pacific Island Affairs advised its minister Peda was untested, unproven, and a significant failure risk.
It said the proposal for funding, which was uncontested, by Peda to the finance minister briefly outlined five projects and was scant on detail about how money would be spent.
Mr Sio said there were also questions about the bidding system for the allocation.
The Ministry appeared to have had serious concerns but the Government still handed over nearly $5m, he said.
"This significant financial commitment was made on the back of what can only be described as a flimsy budget proposal from Peda. It's time for Georgina te heuheu to tell Kiwis why Peda was really funded."
Peda chief executive JR Pereira, who had previously worked in the ministry, last month said a robust funding case had been submitted before the budget and schemes administered by its experienced staff would benefit economic development in Pacific communities.
Ms te Heuheu said Peda had several discussions with Finance Minister Bill English about the funding.
She said no money had gone to Peda yet, and that would happen only when an appropriate purchase agreement was in place which satisfied the Government.
She said the ministry was confident any risks presented by the allocation could be managed.
"If the Government does not think it can get value for money, or that the services are not meeting stated objectives, the money will not pass."
- NZPA