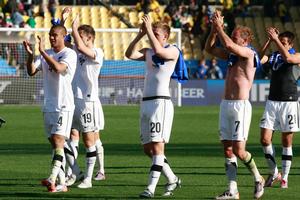 Almost three-quarters of a million New Zealanders watched the All Whites last night, with some bars around the country reporting their biggest night in recent memory.
One pub in Auckland's Viaduct, Fox's Ale House, had to turn away more than 500 people before kick off, said general manager Justine Grace.
"The numbers we were turning away was just insane. I couldn't believe it when I saw it.
"It was definitely the biggest night we've seen for a long time."
Nobody left before the game ended, and the crowd exploded at Winston Reid's last-minute equaliser, Ms Grace said.
"That was just crazy. The whole pub just exploded.
"Everyone went absolutely mental - they were jumping and cheering and chanting. For about 10 minutes you couldn't hear anything."
Even on a Bledisloe Cup All Blacks test match the bar rarely turned away more than 200, Ms Grace said.
In Christchurch, a barman at Holy Grail Sports Bar said it had up to 1000 people packing the bar.
"It was chocker, mate. It really went off. The whole place erupted. We've never seen anything like it," he said.
Extra staff were called in and the momentum from the All Whites' match carried on to good crowds at other World Cup matches, he said.
"It was just as big if not bigger than an All Blacks test. It's the talk of the town."
Wellington's Four Kings bar said its two floors had filled with about 400 people, while Public, just down the street on Courtney Place, also said it had had a "fantastic", "crazy" and "huge" night.
In living rooms, meanwhile, Television New Zealand said 593,800 people watched the game on TV One and 150,500 watched on Sky TV - a total of 744,300.
That means more than one in six New Zealanders stayed up on a Tuesday night for the broadcast, from 11.30pm till 1.20am.
The All Whites' 1-1 draw with Slovakia gives New Zealand their first World Cup point, and puts them level with other teams in their group.
Their next game is Sunday, against Italy.