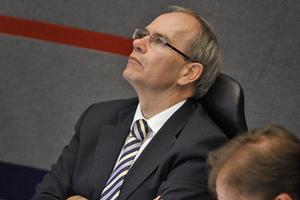 An emotional Len Brown last night apologised to the Manukau City Council for his credit card breaches, and said he had learned his lesson.
The mayor's apology came during a long and at times testy council debate over his credit card expenses.
Earlier, it emerged that Mr Brown continued to break rules after being warned by senior staff to provide correct documentation when using his council credit card.
Finance director Dave Foster yesterday said he told Mr Brown about twice in the past year that he was not providing the correct documents with his card purchases.
Other senior staff had also raised the issue with the mayor.
An Audit New Zealand-initiated probe of incomplete tax invoices has identified 25 cases among the council's 172 credit card holders.
Of the 25 cases, 13 relate to Mr Brown, including an $810 dinner at Volare Restaurant in Manurewa that is also missing written documentation specifying the purpose of the dinner, who was present and giving an itemised breakdown.
Documents detailing $16,977.22 of Mr Brown's credit card spending since 2007 are also littered with hand-written notes from the credit card administrator, such as "need receipts", "receipts/invoices lost again" and "still waiting on receipt".
At last night's council meeting, councillors spent some time questioning Mr Foster about enforcement of the council's policies on use of official credit cards.
In his apology to the meeting, Mr Brown said: "If I have a weakness, it's the fact I spent too much time being out there, and not enough time in my office maintaining its administration.
"If I survive this savaging, and end up in another mayoral chair, I can assure you I have learned from this experience."
He said he did not wish to be hauled through a kangaroo court, and he was going to the only fair court in the land - the Auditor General.
"Either you give me a break and let me have the opportunity of a fair hearing to get some justice, equity and fairness, or sink into a cess pit of political expedience. I leave it up to you."
Manukau City councillor and Citizens and Ratepayers Super City candidate Jami-Lee Ross said it was the first time Mr Brown had given a full apology, but questions remained about his credit card use.
Mr Ross said he would continue to press the issue, saying that in multiple instances the mayor had spent ratepayers' money using his council credit card on personal purchases, and had not provided tax invoices or itemised breakdowns for entertainment expenditure.
Several entertainment bills Mr Brown put on his council credit card - such as a $150.50 lunch with North Shore Mayor Andrew Williams at Long Bay Restaurant on April 29 last year and a $768 bill at Christchurch's Viaduct Restaurant and Bar on July 29 last year - are missing tax invoices and itemised breakdowns.
There is also no written explanation for a $102.48 purchase of toys at KMart in Manukau last November.
Many of the purchases are small in value and include "coffee breaks", "refreshments" and "dinner" between mayoral engagements.
Mr Brown's credit card problems have escalated since he admitted last week to using his card for four personal purchases, costing $638.27.
The problems are a boost for his main Super City rival John Banks, who trailed Mr Brown by 11.4 percentage points in the most recent Herald-DigiPoll survey.
Mr Banks' latest online campaign bulletin takes a dig at "recent news about reckless spending behaviour on taxpayer and ratepayer funded credit cards by some politicians".
It says Mr Banks does not have a council credit card, and never will.
"He has never charged a sandwich, lunch or coffee to the ratepayers of Auckland. And it goes without saying he has never bought hams, toys, or family groceries either."
But Mr Banks has not had an incident-free run-up to the mayoral race.
This year it was revealed he was executive director of Huljich Wealth Management when director Peter Huljich used his own money to top up its KiwiSaver fund.
This led to a Securities Commission investigation that has still to report back, and a debate on how to improve the integrity of KiwiSaver.
ON THE PLASTIC
Over 25 months, Manukau Mayor Len Brown used his credit card for:
* 15 coffees
* 36 lunches
* 25 dinners
* 10 entertainment occasions
* 22 other items