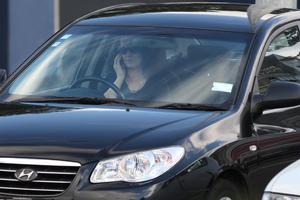 Selfish drivers with a "me first" attitude are the number one frustration for Kiwi motorists, according to an AA Insurance survey.
Drivers who use a hand held mobile phone to talk and text was voted the most frustrating driving behaviour, despite a law change banning drivers using hand held phones in December 2009.
The survey results come from the AA Insurance Driver Frustration Index which surveyed 3270 New Zealanders aged between 18 and 65. The results were released today.
AA Insurance deputy manager Martin Fox said drivers not paying full attention to the road were rated second in the index.
"A driver who becomes frustrated or impatient as a result of inattentive driving is more likely to have an accident. These accidents can result in larger insurance claims as frustrated drivers can often drive at a higher speed," said Mr Fox.
He said most frustrations in the top ten were inconsiderate actions, including drivers who turn corners from the wrong lanes, drivers who increase their speed at a passing lane so they can't pass and those who slow down after the passing lane.
Other top 10 placings included drivers of slow cars that don't pull over to allow others to pass, drivers who don't use their indicators correctly and drivers who are not courteous while changing lanes or merging.
Tailgating, not giving way to cyclists and motorcyclists and not dipping headlights to oncoming traffic was also on the list.
Top Ten Driver Frustrations in the AA Insurance Drivers Frustration Index 2010
1. Drivers who use hand-held mobile phones to talk or text while driving, despite the law change
2. Drivers who are not paying full attention to the road
3. Drivers who turn corners from the wrong lanes
4. Drivers who increase their speed at a passing lane so you can't pass and/or slow down after the passing lane
5. Drivers of slow cars who don't pull over to allow others to pass
6. Drivers who don't use their indicators correctly (e.g. don't indicate or continue to indicate after they need to)
7. Drivers who are not courteous while changing lanes or merging
8. Drivers who tailgate
9. Drivers who don't give way to cyclists or motorbike riders when they should
10. Drivers who don't dip their lights for oncoming traffic at night