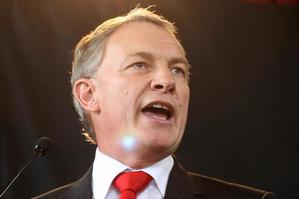 Three Labour MPs have been demoted for misusing taxpayer-funded credit cards while they were ministers in the previous Government.
Labour Party leader Phil Goff announced today that Shane Jones and Mita Ririnui would be demoted and stripped of their portfolios. Chris Carter has also been stripped of his foreign affairs portfolio but retains that of ethnic affairs.
Jones and Carter would be removed from the front bench, Mr Goff said.
Their replacements will not be announced until tomorrow.
All three MPs were shown to have spent taxpayer money on items not covered under the rules, later making refunds from their own accounts. Mr Jones admitted putting hotel porn videos on his card.
Mr Goff said none of the infractions of spending rules were excusable and he was imposing the sanctions "on the basis of poor judgement".
"Ultimately, it was clear what decision I needed to make in these cases," he said in a statement.
Mr Jones' portfolio was environment and economic development, Mr Carter's was foreign affairs, and Mr Ririnui's was forestry.
Mr Jones billed more than $6000 of personal spending to his ministerial card, including the cost of watching up to 50 pornographic movies while staying at hotels.
Mr Goff said Mr Jones' repeated misuse of his card needed a clear sanction but that he believed the MP had a lot to offer Labour and New Zealand in the future.
"But he will now have to prove that he is worthy of future consideration and the onus will be on him to earn his way back into a future Labour ministry."
Mr Carter put flowers and massages on his card, and last week repaid $251.16.
Mita Ririnui spent $682.77 on a golf shop in Perth on January 4, 2007, incuding, for tees and call, gloves, some clubs and a carry bag.
He also spent $899 at a Tauranga bike shop in February 2008.
Prime Minister John Key last week said greater public scrutiny would curb ministers' use of taxpayer-funded credit cards for anything other than official business .
The Auditor-General is reviewing the rules on ministers and MPs' expenses and Mr Key indicated he would welcome a recommendation for quarterly publication of ministerial credit card statements.
Ministers and MPs' travel and housing expenditure records were now released quarterly "and I can't see any particular reason why this won't be happening with credit cards in future".
More from ministers' credit card file:
LABOUR
* Parekura Horomia: $370.50 restaurant meal for electorate staff.
* Jim Sutton: $131 for massage in China.
* Nanaia Mahuta: $273 to get car out of parking lot.
* Dover Samuels: $25 spent by staffer to go up Sky Tower.
* Margaret Wilson: $599 for two suitcases.
NATIONAL
* Pansy Wong: $208.64 on Paypal account (card allegedly stolen).
* PM John Key's office: $390 at party pill shop and $400 at tobacco shop (card allegedly stolen).
- NZHERALD STAFF