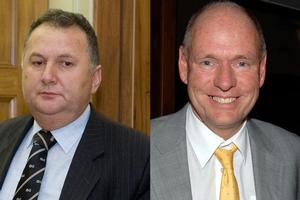 Labour leader Phil Goff is moving quickly to deal with the fallout over the spending of some of the party's former ministers.
Mr Goff returned from a trip to China today and was tonight talking to Shane Jones, Chris Carter and others embroiled in the scandal.
Party sources told NZPA that Mr Goff wasn't going to wait for Tuesday's caucus meeting and was likely to announce his decisions around noon tomorrow.
Mr Jones and Mr Carter are almost certain to be demoted and a third, Mita Ririnui, could also go down in the ranks.
Mr Goff was described as "very disappointed and angry" about the controversy that surrounds the MPs who broke the rules with the ministerial credit cards.
Mr Jones has taken most of the bad publicity because he used his card to hire dozens of pornographic movies while staying in hotels. He also used the card to make personal purchases, and although he paid the money back there are explicit rules against doing that.
Mr Carter's excessive spending on overseas trips has also been a main attraction for media investigations, and the former education minister is still maintaining he did nothing wrong.
Mr Goff is likely to take the seventh-ranked MP off Labour's front bench in a minor reshuffle which could promote some of the party's recently arrived and talented members.
Mr Carter has indicated he could quit because of the row, and if Mr Goff demotes him it could be the last straw.
"Do I want to keep putting up with this?" he said in an interview with the Herald on Sunday.
"I love being an MP but there might well be a point soon where I think this is just not worth it."
Mr Jones has already had a humiliating time and has apologised for his actions.
He is likely to accept demotion and work to rehabilitate his image.
Mr Goff wasn't giving anything away when he arrived at Auckland Airport today and was met by Labour's deputy leader, Annette King.
He said he wasn't going to judge Mr Jones by what he did in the privacy of his own room.
"I'm not going to judge peoples' behaviour, that's not the issue. The issue is expenditure of government money," he told TV3 News.
Meanwhile, a former president of the National Party says Mr Jones isn't likely to have been the only MP or minister who had watched porn movies.
Michelle Boag said today she didn't think Mr Jones' inappropriate spending was as bad as some others who had made big personal purchases on their ministerial credit cards and then paid the money back.
"So he watched a few porn movies. Well so what - I'll bet he's not the only MP or minister who's done that," she said on TV One's Q&A programme.
Former Labour Party president Mike Williams said people were right to be angry with politicians.
"It's not a good look for either party and they're all doing it," he said.
- NZPA