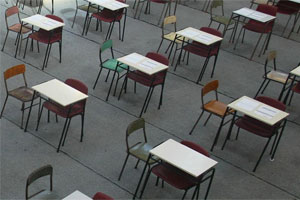 Five teachers disciplined for offences ranging from sex with students to watching porn in a classroom have had their identities protected as calls to "name and shame" grow.
The details of the ruling against the teachers were published by the Teachers' Council this week. Two teachers disciplined for misconduct could be back teaching next year. The cases include:
A married male teacher struck off for having a sexual relationship with a 17-year-old student for 18 months.
A male teacher struck off after being caught cruising a public toilet for sex;
A female teacher struck off after being caught claiming the DPB while working;
A female teacher suspended for a year for showing porn to a colleague in a class of 5-year-olds;
A female teacher warned for slapping and hitting 7-year-old students.
The rulings prompted fresh calls for an end to the secret nature of the Teachers' Council.
The Herald on Sunday has previously published concerns over the transparency of the council and its tribunal rulings.
Rulings published on the council's website have personal details marked out by lines of red crosses. Details concealed include names of teachers, their schools and even what part of the country they taught in.
The council even protects identities of teachers who are convicted in court but don't receive name suppression.
That's out of step with other professional tribunals which are open to media and the public.
Labour education spokesman Trevor Mallard said the council should be moving towards more openness with the public and parents.
"In the end the presumption should be towards openness, and naming is part of the punishment. If you do something that is that serious that you are suspended or struck off, then that should be a matter that is public."
Education law expert Patrick Walsh said parents had "a right to know".
Walsh said the present situation meant parents had to have faith the Teachers' Council and principals were making appropriate checks when employing staff.
"It would greatly enhance public accountability of decisions," he said.
Walsh said the council could reflect concerns around identifying children and young people by suppressing names of those dragged into cases involving teachers.
He also said teachers should be aware texting and social networking websites created dangers of crossing boundaries with students. "It seems that a lot of sexual misconduct ... the genesis is around texting."
He said kids felt comfortable texting some things they would never say in public. The private nature of conversations could spiral into inappropriate relationships, he said.
Walsh said he also questioned Facebook and Bebo relationships between staff and students.
It was important teachers maintained professional boundaries.
Teachers' Council director Peter Lind said potential changes to the policy were not scheduled for debate and the system would not change in the near future.
He said parents could check if a teacher at their child's school had been before the Teachers' Council by accessing registration details.
The record would show if the teacher's record was marked with the terms "censure" or "restrictions" - even though it did not detail what the teacher had done.
Lind acknowledged that teachers banned for set periods would have blemishes removed from their records once the time was up.
"I guess that's the place of natural justice as well, you can't keep someone's convictions up there indefinitely."
Teachers' Council cases
* 2005 - 2
* 2006 - 16
* 2007 - 12
* 2008 - 18
* 2009 - 10
* 2010 - 8