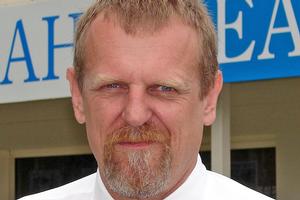 In front of a packed funeral service, a relative of the man accused of murdering Brent Dumper stood and apologised.
The family had felt nothing but shame since the 46-year-old New Zealand expatriate was shot dead at his eldest daughter Jessie's flatwarming on the Gold Coast on May 30.
"We just can't believe that we have some connection to somebody who could do something so evil," said the woman. "We wanted to speak on behalf of our whole family to acknowledge the pain that you're all feeling, the suffering that a relation of ours has caused you all."
New Zealander Bevan Carl Forsythe, 36, has been charged with the former Waiuku antique dealer's murder and the attempted murder of another man, who narrowly missed getting shot trying to wrestle the gun away. He is remanded in custody for a committal hearing in December.
Jessie sobbed as she paid tribute to her father, who friends teased her for hanging out with more than them.
But as others attested, the father of Jessie, Kate, Blake and Shane was always the life of the party.
"He was a rough diamond, but a sparkling one at that," said a workmate.
Jessie said Mr Dumper was happiest around his motorbikes, family and mates and she loved hanging out with him. "Rest in peace dad. I love you," she finished.
Dozens of friends and family packed the modest Papakura chapel and spilled out on to the driveway, others sat on motorbikes pulled up on the footpath. A plastic replica of a motorbike was placed on a shelf near the coffin and photographs of Mr Dumper with various bikes graced the service sheet.
Ever since his childhood at the Ohakea Air Base Mr Dumper had had a passion for the two-wheeled machines.
"He was given his first bike at the age of 2 and he only knew one speed once he got on it and that definitely wasn't slow," said a family friend.
After working as an antiques dealer in Waiuku, Mr Dumper migrated to Australia with wife Karyn.
Friend and colleague Roger Guillemet said Mr Dumper's professionalism in his work as a real estate agent in Beerwah belied his rough exterior.
Mr Dumper then convinced daughters Jessie and Katie, 15, to follow him across the Tasman.
Another colleague said the big man - who appeared intimidating but had a big heart underneath - had a "sense of humour to match his stature".
"His broken smile and deep-bellied laugh could be heard from afar," he said.
His wife - who described him as "the love of my life" - had found a bucket list in his pocket. He had "slowly been marking things off," said sister Michelle.
Mr Dumper had always said: "I'm not here for a long time, I'm here for a good time".