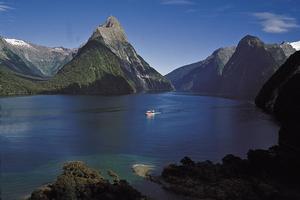 Tourism operators offering shoddy New Zealand tours for Chinese visitors are the target of a revised code of conduct aimed at cleaning up the industry.
Tourism New Zealand introduced a code of conduct in November 2007 aimed at improving the quality of tours for Chinese visitors, one of New Zealand's fastest growing tourist markets.
Two buses involved in tours around the Queenstown-Milford Sound area were deemed "not fit for service", after inspections by the Transport Agency in February, a Tourism New Zealand spokeswoman said.
Operators were required to correct the problems or, in more serious cases, were placed on probation. Further breaches of the code resulted in their licence being suspended or revoked.
New Zealand was granted "approved destination status" (ADS) with the Chinese government in 1999, enabling travellers to visit as part of a tour group.
Investigation on ADS licence holders to last June identified 47 breaches of the code, including overpriced and excessive shopping trips, poorly maintained coaches, drivers without the appropriate licence, and false information provided to investigators.
While most breaches were for first-time offences, three companies were suspended and one had its right to an ADS licence revoked. Two tour operators remain under investigation.
Tourism New Zealand chief executive Kevin Bowler said transport and activities, particularly shopping, would come under increased scrutiny in the revised code of conduct.
Visitors often felt pressured into shopping at overpriced souvenir shops, which was affecting Chinese tourists' satisfaction levels, he said.
"China offers big opportunities for New Zealand tourism, but we need to improve quality, as well as visitor numbers in order to grow its value to New Zealand's economy."
Booming
* China has leapfrogged South Korea and Japan to become New Zealand's fourth-largest tourism market, with more than 100,000 visitors for the year to April 30.
* Chinese visitors stay an average of three nights in New Zealand, and spend an average of $3200 each.
* Most visitors from China (89 per cent) travel New Zealand with organised group tours.
* Only 17 per cent of Chinese visitors travel beyond New Zealand's main visitor centres.
Source: Tourism New Zealand
- OTAGO DAILY TIMES