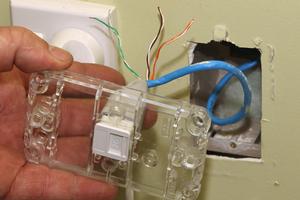 My central Auckland bungalow was built in 1915 - about the time New Zealand homes were connecting to the first phone networks.
I was curious whether the walls concealed 20th century wiring that was holding me back from getting 21st century broadband speeds.
Even I was surprised by results showing I was missing out on faster broadband due to shonky wiring.
Chorus senior implementation specialist Ian McCulloch, technician Jacques Kleynhans and industry consultation manager Brett Jackson visited to conduct a home wiring warrant of fitness - tracing the route broadband data takes once it enters my house to check for any bottlenecks.
Home wiring can throttle broadband speeds even if you are getting decent speeds delivered to your front door.
As Mr Jackson described it, the broadband network turns off the fast motorway into a cul de sac - the connection running to the house - and beyond that is either a goat track or an uncongested home run.
Given the age of the house, it was likely a check of the wiring inside would reveal what Mr McCulloch called a "daisy chain" configuration - the telephone wiring entering the house and visiting each phone jack point one after the other in series.
It is like the old Christmas tree lights. One bad bulb and the lot go out.
After a poke around in the ceiling there was good and bad news.
On the plus side, home renovations a couple of years ago meant we had Cat5 wiring connecting each of our four new jack points. Cat5 is the starting point for a good home computer network.
And the bad news.
Duct taped to the end of our Cat5 wiring was a length of the original telephone wiring running back outside to the external connection point.
Not only did this wire have inferior data-carrying abilities, between the point the phone and broadband network terminates outside our house and the modem jack point, were at least four joints. As Mr Kleynhans explained, every joint in the cables was a point of resistance.
A speed test using Mr Kleynhans' laptop plugged into the modem jack point nearest my computer showed I was getting 6.8 megabits per second connecting to a server in Auckland.
Connected again outside the house, that improved to 8.7 megabits - a 30 per cent loss of speed due solely to my wiring setup.
Premises wiring code: www.tcf.org.nz/premwiring
Test broadband speeds: www.speedtest.net