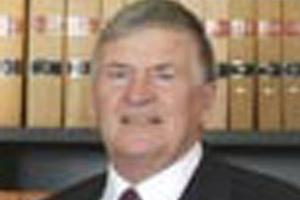 Supreme Court judge Bill Wilson is challenging the legality of a judicial conduct panel appointed to investigate his conduct.
Acting Attorney-General Judith Collins said yesterday she had accepted the recommendation of Judicial Conduct Commissioner Sir David Gascoigne that there should be further inquiries into complaints against Justice Wilson.
She named two High Court judges and the Chief Ombudsman as members of the panel.
Justice Wilson's lawyer, Colin Carruthers, QC, told the Herald an application for a judicial review, challenging the appointment of the panel, would be filed as soon as possible.
He said Ms Collins and Chief Justice Dame Sian Elias had been told.
This is the first time a judicial conduct panel has been appointed.
Before recommending that the Attorney-General appoint a panel, the Judicial Conduct Commissioner must be satisfied the conduct complained of could warrant the judge's removal.
Mr Carruthers said the main ground of Justice Wilson's judicial review bid would be that on the facts found by the commissioner, the alleged misconduct was not serious enough to warrant his removal.
"Therefore the commissioner did not have jurisdiction to recommend to the Attorney-General that a panel be convened, and accordingly the Attorney-General did not have jurisdiction to appoint a panel."
In his decision, Sir David focused on disclosures made by Justice Wilson to his Supreme Court colleagues regarding his indebtedness to a lawyer appearing before him.
Justice Wilson was one of three Court of Appeal judges who in 2007 overturned a High Court ruling that would have awarded wool-growers group Saxmere repayment of up to $8 million in levies from the former Wool Board.
At the time of the hearing, Justice Wilson owed Wool Board lawyer Alan Galbraith, QC, $242,804. This was not disclosed to the court.
Last November, the Supreme Court ordered the decision be set aside and the case reheard, on the grounds that the judge's relationship with the QC could raise a perception of bias.
The panel members will be Justice Tony Randerson, Chief High Court Judge Justice Helen Winkelmann and Chief Ombudsman Beverley Wakem. Ms Collins said details such as terms of reference were yet to be determined.
- Additional reporting by NZPA