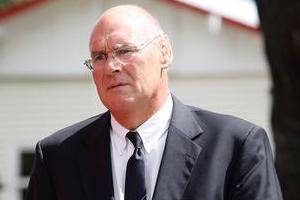 Andy Haden can be forgiven for his "darkies" comment as long as the apology is genuine, Prime Minister John Key says.
Haden, a Rugby World Cup 2011 ambassador, caused offence by suggesting last week on Sky TV's Deaker on Sport programme that the Crusaders rugby franchise had race-based selection policies which involved recruiting only three "darkies".
Haden on Sunday repeated an offer of apology to anyone who was offended.
The Government has not stripped him of his ambassadorship and Mr Key yesterday said people made mistakes - broadcaster Paul Holmes got into hot water over calling then UN head Kofi Annan a "cheeky darkie".
"Everybody makes mistakes, the important point is to recognise those mistakes, apologise for them and hopefully move on," Mr Key said.
"In the case of Andy Haden I think we'd all acknowledge that he's a rugby player, it's a bit rough and ready.
That show was of a nature where it was talking about the browning of rugby. I'm not condoning his actions because I believe he used a totally inappropriate term, and as I say I've made it clear that he needs to apologise for that and he has, but the precedent, in one sense, was set by Paul Holmes."
Mr Key said the term was offensive but Haden had apologised "profusely" and he did not think Haden was a racist.
"As long as Andy Haden's genuine in his apology then I think we can move on."
Mr Key said it was up to the Crusaders to address the issue of whether there was a race-based policy.
The Maori Party has called on Haden to back up his claim.
"By refusing to disclose the identity of the people who Andy says wrote this so-called policy, he has turned a blind eye to what could potentially be institutionalised racism in that franchise," Maori Party sports spokesman Te Ururoa Flavell said.
"If Andy is really concerned about the future of rugby in this country, and it being a safe sport for all peoples to play, then he must name the policy writers or, even better, show us the policy on paper."
If there was no proof, then Haden's integrity and continued role as ambassador should be questioned, he said.
Canterbury chief executive Hamish Riach said it was disappointing that Haden's apology did not extend to what he said about the franchise.
"He's stopped short of that, which is disappointing given that there isn't such a policy here and the Crusaders do not pick a team on race and do not have a Polynesian quota and a ceiling."
He called on Haden to apologise and said there was no truth to his allegations.
"The comments from Andy Haden can't be true, because the teams don't reflect what he's saying.
"And even if they did have a particular number, that to me would not remotely prove that we operated a quota. It would just be a particular group dropped into place for the coaches at the time."
Riach said he had not spoken to Haden and would not speculate on where he sourced his allegations from.
- NZPA