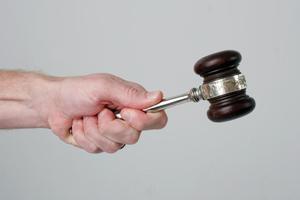 The controversial three-strikes legislation will become law, after the National-Act Party bill passed its third reading in Parliament last night.
However, it came under repeated fire from Labour, the Greens and the Maori Party in an at-times colourful debate, in which the substance of the bill and its process through Parliament came under scrutiny.
The bill has been criticised as having little impact on crime.
Legal experts have said all strike three convictions for an offence will be treated the same, discounting the differences in the severity of the crime.
Corrections Minister Judith Collins, who is in charge of the bill, dismissed any suggestion that a conviction under the strike offences could be for something minor.
"This bill deliberately puts in place an escalating regime of penalties, and I make no apology for that. An offender who is being sentenced at stage three has committed a third serious violent offence and has received two previous warnings about the consequences of re-offending in this way."
The bill also allows courts to order a life sentence without parole for the worst murders, even if the offender has no previous convictions.
The Greens' David Clendon, in opposing the bill, referred to the work of Auckland University's Professor Warren Brookbanks and Richard Ekins, who have said that offenders on strike three will have no incentive to plead guilty, and likely drag victims through the court process and increasing legal costs.
Labour's Ruth Dyson dismissed the bill as drivel that had been championed by Act MP David Garrett, a staunch supporter of the Sensible Sentencing Trust.
"We have sent a message to repeat violent offenders," Mr Garrett said.
"They have a choice - they can change their ways or they condemn themselves, by their own choice, to spend most of their lives in jail."
National and Act had sufficient numbers to pass the bill 63 votes to 58 (the Progressive Party did not cast a vote), prompting applause from both Act MPs, and Sensible Sentencing Trust members in the public gallery.
Labour MP Parekura Horomia called out "what a disgrace", as the bill was passed.
How it works:
40 qualifying offences, ranging from murder to indecent assault to robbery. Conviction is an automatic strike.
* Strike one: Judge decides sentence, gives a warning, offender eligible for parole.
* Strike two: Judge decides sentence. No parole.
* Strike three: Maximum jail term for that offence. No parole, except for manslaughter (minimum non-parole period of 20 years).