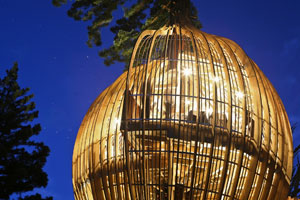 The architecture firm which designed the Yellow Treehouse north of Auckland has been approached to do other similar structures.
Peter Eising of Pacific Environments, which won a national award from the Institute of Architects this month, said his firm owned the treehouse copyright. It cost about $600,000 to build, he said, and he is confident it can be done again.
The structure had generated international attention and a Chinese shopping mall owner was interested in a treehouse being built in a Beijing mall, he said.
A film crew from South Korea and an American treehouse enthusiast had also made approaches.
Colenso BBDO, working for Yellow Pages, asked Pacific Environments for a "reality" TV advert for an off-the-wall, functioning restaurant, which sparked the treehouse's creation.
The structure, which has featured in about 60 magazines, is 14m tall, equivalent in height to a four-level building.
It can seat 20 to 30 diners and has its own carpark leading to a 30m-long walkway.
Eising said the building complied with all codes and practices and noted that it had a fire plan as well as access for disabled people.
The restaurant has been shut because of traffic issues.
In 2008 logging and forestry businessman Ken Holmes agreed to have the hanging wooden structure suspended in a tree on his redwood plantation. The restaurant was open to the public for a limited time.
The restaurant was listed in Yellow Pages but now that redirects people to a website saying the treehouse is closed.
Eising remains hopeful about the future of the treehouse, 6km south of Warkworth.
Rodney council spokesman David Anderson said there was restricted visibility leaving the site heading south and potential for a dangerous situation where traffic could queue on the state highway, waiting to execute a right-hand turn.
Maree Clement, Holmes' partner, said the driveway might be changed so traffic problems were resolved.
Glowing praise
The Yellow Treehouse won:
* Institute of Architects national award
* Institute of Building national excellence award
* Institute of Architects Auckland branch award
* Designers Institute gold award
* Timber Design Society award
* Finalist, World Architecture Festival award, Barcelona, Spain
* Finalist, top five, ArchDaily building of the year, US
Who was involved:
* Architect: Pacific Environments
* Builders: Shane Brealey's NZ Strong
* Owner: Forestry/logging businessman Ken Holmes
* Engineers: Holmes Consulting
* Promoters: Colenso BBDO