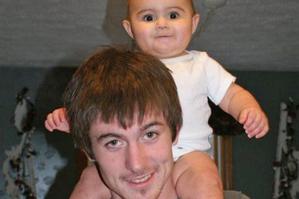 A Kiwi wanted by the FBI after disappearing with her 1-year-old daughter is hiding in New Zealand, a relative said yesterday.
New Zealand-born Bianca Ormsby, 21, has been charged in the United States with international parental kidnapping of her daughter, Sydney Thomas.
She is alleged to have fled from her Michigan home in March with the baby, against the terms of a custody agreement with Sydney's father, Adam Thomas.
Ormsby's Hamilton-based grandmother said last night she had spoken to her granddaughter on the phone. She was in New Zealand with Sydney.
The pair had been staying with Ormsby's paternal grandparents, but she hadn't heard from her since she left there.
"At the moment I do know that she's in New Zealand but she has moved from the place she's been at. To be honest, I don't know where she is."
She said mother and baby were safe and well.
The grandmother believed Ormsby had left the US of her own accord, but had now got "half the family involved".
She felt she had put family members in a difficult position.
"She has made adult decisions, but as far as I'm concerned, she is being a very difficult person. I feel sorry for the baby, but what can we do?"
A Michigan news website reported that charges had been filed against Ormsby in the federal court in Detroit.
She and Thomas, 21, had a joint custody agreement for Sydney, but when Thomas went to pick up the baby on March 9 as scheduled, Ormsby and the baby were gone.
Thomas received an email on April 11 indicating she and the baby were in New Zealand, which she thought was best for Sydney, the website reported.
An affidavit filed with the court said Ormsby and Sydney travelled on New Zealand passports from Los Angeles to Auckland on March 16.
The baby's father has started Facebook pages appealing for help to have Sydney returned.
He wrote that Sydney was born on May 9 last year in Ann Arbor, Michigan.
The couple, who met when Ormsby was a student at the University of Michigan, lived together for eight months before separating two months after the baby's birth.
They had been in a dispute over a joint custody arrangement when Ormsby disappeared with Sydney.
Thomas said he had since been granted sole legal custody of the baby, and was trying to have his US custody order recognised in New Zealand.
"Right now I need all the support and backing I can get in order to have her rightfully returned to me," he said.
Ormsby is believed to have lived in the US with her family for more than 12 years.
If convicted of the parental kidnapping charge, she faces up to three years in prison.