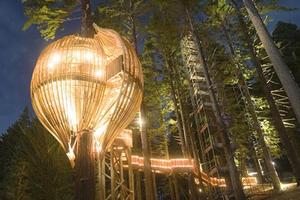 The future of the acclaimed Yellow Treehouse restaurant is now much the same as its structure - up in the air.
Short-listed for awards in Spain and the United States, the restaurant won a New Zealand Institute of Architecture Award last week.
But hopes that diners would soon return are yet to be fulfilled as Rodney District Council reviews traffic access problems from the carpark near State Highway 1.
The restaurant, developed as a Yellow Pages promotion, is built 10m up a 40m redwood tree, 6km south of Warkworth.
It was built with the approval of landowner Ken Holmes and Dawsons Catering operated from a temporary kitchen from December to mid-February before it was shut.
Maree Clement, Mr Holmes' partner, said: "Rodney [council] has asked questions and the holdup is our driveway design complying with the safety standards.
"The danger is turning out of it, heading back to Auckland. There's 150m visibility and the safety standard is 200m. We're examining lifting the driveway, removing a visibility hump, or moving the driveway south."
The Yellow Treehouse won its latest award at a presentation at Auckland War Memorial Museum.
"Structural inventiveness has played a key role in the creation of the whimsical, lantern-like organic form. Evocative and imaginative, it happily fills the role of architect as event," the judges said.
Rodney council spokesman David Anderson said restricted visibility leaving the site and potentially dangerous waiting to turn right created problems.
He understood Rodney had no issue with the Treehouse continuing to be used if the traffic difficulty was solved, but feared an impasse.Anne Gibson