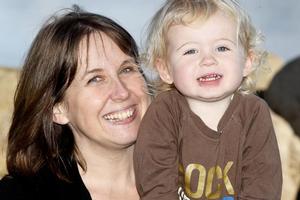 Two-year-old Finn McDaid will never remember the car accident that left him with a bleeding brain and his mother with multiple injuries.
But his parents, Rebecca and Patrick, will always remember the Westpac Waikato Rescue Air Ambulance getting him quickly to the Starship hospital, preventing him from having an unnecessary operation.
The family are sharing their story as part of Chopper Appeal Month, which raises awareness of the 16 rescue helicopter trusts around the country that flew nearly 5000 missions last year.
Volunteers will use Chopper Appeal Day tomorrow to collect money.
Last October, Mrs McDaid was driving with Finn, 17 months, on Te Pahu Rd, southeast of Hamilton.
A car collided with hers on the driver's side, breaking bones in her right leg and arm and lacerating her spleen.
Paramedics initially thought Finn was okay but as a precaution took them both to Waikato Hospital.
Doctors soon discovered he had a fractured skull and bleeding on the brain.
After he had a seizure, they thought he would need surgery.
They decided to send him to the Starship in Auckland for specialist advice.
The rescue helicopter was called to fly Finn north.
Starship doctors did tests and stitched his head but decided no surgery was required.
"If we didn't have access to the helicopter, they could have operated on him, exposing him to something he didn't end up needing to be exposed to," said Mr McDaid.
"My wife was also in intensive care at the time so having them both in surgery would have been awful."
Mrs McDaid underwent 11 hours of surgery and had rods inserted in her broken limbs. She is still in a wheelchair.
The family went to a rescue helicopter open day at the service's Waikato Hospital base two weeks ago.
"My husband got quite emotional. He had tears in his eyes because it brought it all back for him," Mrs McDaid said.
But as for Finn, "I think he was more fascinated by the fire engine and the police dog".
HOW TO DONATE
* At any Westpac branch.
* Text CHOPPER to 4483 (a $3 donation).
* Phone 0900 4 CHOPPER (a $20 donation).
* via chopperappeal.co.nz