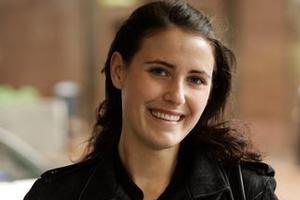 Buying new glasses has traditionally been a budget-breaking affair, but experts say the arrival of online discounters and large retail chains is transforming the $280 million-a-year industry.
Consumers are enjoying more variety and cheaper prices since Specsavers opened its first stores 18 months ago, according to the British-owned retailer.
But independent optometrists claim they offer better eye care and warned customers "you get what you pay for".
Pete Campbell, general manager of Visique Optometrists, said: "The bigger picture of eye health is more important for us. We offer comprehensive eye examinations. We sell quality lenses made by the best in Europe."
He said over the past 12 months Visique has seen a lot of people "go on a discovery to see what is out there and come back to us".
Meg Browning, a dispensing optician from Vigil Eyewear, said cheap deals and discount ranges wasn't its market.
"Our focus is customer satisfaction and making sure people leave happy. All our staff are fully qualified, unlike some bigger chains which have retail staff on the floor."
But Specsavers' New Zealand managing director Graeme Edmond said its service would match any in the industry.
"We have massive buying power through our 1200 stores internationally. We often buy from the same factories in Europe and Asia as our competitors.
"All of our stores have the latest equipment to provide professional eye examinations. We might organise things differently and run it more efficiently but there is no difference.
"For too long Kiwis have been paying too much."
But people out shopping for glasses in Auckland this week had mixed feelings about whether cheaper was necessarily better.
Nita Wetti, who bought two pairs of designer glasses for $389 from Specsavers, said she was happy with the price.
"I came in because of the free eye test. I was so overdue. It's an amazing deal. In the past I would have paid at least $500 for one pair of glasses."
However, Megan Robinson was more doubtful. She is in the market for a new pair of glasses but said she would try to avoid the cheaper options.
"I just feel more comfortable at some of the more traditional stores. I don't mind paying a bit more when it comes to my eyes."
Consumer New Zealand advisor Maggie Edwards said Specsavers had brought an element of competition and there had been very few complaints.
Head of Auckland University's department of optometry and vision science Professor Paul Donaldson said battle lines had been drawn in the market.
He said there was a concern too much emphasis was being placed on selling glasses at the expense of eyecare.
"But it's a two-way street. People want cheap glasses which drives the business model."
Shopping for specs turns into a blur
The abundance of options when buying a new pair of glasses can be "overwhelming", says Kimberley Hamilton.
The 23-year-old student hit several stores on Queen St in Auckland this week searching for a replacement pair of specs. She said buying online was too much of a gamble and admitted she wasn't sure about going to Specsavers.
"I had a look around some on the different styles but I am a bit unsure.
"It seems a bit like the McDonald's of optometrists. It's definitely cheaper, but I just don't know."
Four years ago Hamilton paid $200 in Australia for two pairs of titanium glasses.
She is considering laser surgery to correct her eyes and doesn't want to spend a fortune on glasses she might not need for much longer.
"Some are heinously expensive. It's a bit overwhelming, all the options, really."