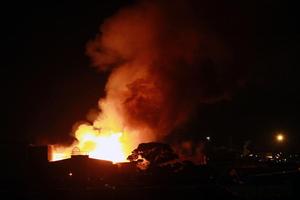 More than 100 firefighters were last night battling a blaze at a large abandoned cool store already charred by a fire 18 months ago.
The fire, at the old Southdown freezing works on Hugo Johnston Drive in the Auckland suburb of Penrose, began about 8.10pm.
It covered the three floors of the building and was understood to have spread to nearby factories.
A Northern Fire Communications Centre spokesman said 24 appliances from around Auckland were at the scene, battling the fire from the ground and on ladders. At least one fire truck was called to the blaze from Hamilton.
Trainlines to Southdown were closed and firefighters were searching adjacent office buildings to evacuate anyone inside. Firefighters got curious spectators watching from the east, downwind of the blaze, to move on in case the flames and smoke spread.
The Fire Service received numerous calls from people who could see the flames from several kilometres away.
Inspector Ian Brooker said police were assisting with traffic control and assessing what the "downwind impacts" of the inferno would be.
No one was believed to have been injured in the blaze.
The fire follows a massive blaze at the cool store in December 2008. More than 150 firefighters were called to the scene, some from as far away as Hamilton and Rotorua, and battled the flames for days.
Fire chief Brian Edwards said at the time it was the biggest fire he had seen in Auckland in the 38 years he had worked in the city.
- NZ Herald staff