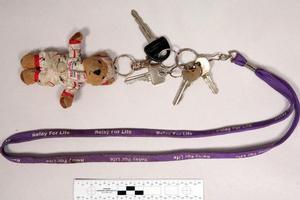 The discovery of a lanyard belonging to missing Whanganui woman Marice McGregor indicated she had got into a vehicle, police say.
The lanyard, a rope or cord often worn the neck or wrist to carry something, was found on Thursday on a patch of grass by a university lecturer and students collecting stream insect samples by a culvert south of Otoko Pa, about 26km north of Lismore Forest where the 45-year-old was last seen and her abandoned car found.
The group handed the lanyard to Ohakune police, who passed it on to the Whanganui investigation team.
Ms McGregor was known to have carried her cellphone on the lanyard.
Her cellphone was last activated in Feilding, the day after she vanished.
Police had searched the area where the lanyard was found, but there was no sign of Ms McGregor.
Ms McGregor was last seen as she drove her red Suzuki Escudo on State Highway 4, the Parapara Highway, about 40km north of Whanganui, on April 19.
Her car was later found near Lismore Forest, 20km north of Whanganui, but she was not reported missing until seven days later. Her wallet was in the car and her bank account had not been touched.
Significant search and rescue efforts were made in and around the area she was last seen, involving helicopters, divers, dogs and officers on foot, said Detective Senior Sergeant Gwynne Pennell.
The lanyard was a significant find, but added weight to the suspicion surrounding Ms McGregor's disappearance, Ms Pennell said.
"Marice clearly didn't walk that distance. The location of the lanyard is consistent with it being thrown there; most likely from a moving vehicle."
Police believed she had gotten into a vehicle at some point on April 19 and were seeking sightings of a green and silver Mitsubishi people-mover on April 19 and 20.
The investigation team was re-visiting the search aspect to look more scientifically at the areas where she might be, she said.
"Over the eight days since Marice was reported missing to police we have gleaned good information which we can now provide to advisers to assist them with applying scientific methodology," Ms Pennell said.
"Background about Marice, information from friends, family and the public, and timings of telephone activity will allow us to work with advisors to narrow down the possibilities and parameters.
"If harm has come to Marice, the most likely area she will be is the area of the Paraparas. We are working with search and rescue advisor Tony Groome to analyse likely areas, and will then tap into geographical profiling software and expertise to prioritise areas."
Officers had searched as far away as Raetihi, 10km west of Ohakune, looking for potential witnesses.
Feilding was also being searched.
On Monday, retired Detective Inspector Graham Bell and a production team from television show Police Ten-7 spent the day in Whanganui, Marton and Feilding filming a feature about Ms McGregor's disappearance, which would screen on TV2 tomorrow night.
Police were still trying to locate her cellphone. She used a Samsung W531 phone which was a flip-top style phone introduced about two-and-a-half to three years ago, and it was believed to be black and metallic silver.
The phone received some information. Telecom was trying to retrieve the details but that could be impossible as text messages were kept for only 10 days.
Police had seized and examined a green Mitsubishi 4WD van seen in the area.
Police spokeswoman Kim Perks said the vehicle's owner, a Feilding man, was cooperating with investigators.
She would not say whether anything had been found in the van but confirmed the man's address was of interest.
- NZPA