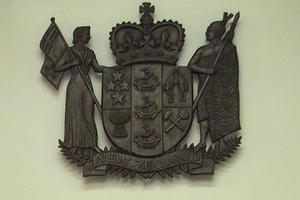 A Mongrel Mob member is accused of kidnapping and raping a woman who says she was able to escape her three-day ordeal after drugging his coffee with codeine.
Sammy Douglas Winikerei, 49, formerly from Taupo, is on trial in the High Court at Rotorua before Justice John Priestley, charged with kidnapping and two counts of rape, alleged to have happened between October 17 and 19, 2008.
Crown Prosecutor Chris Macklin told the jury the 37-year-old woman and Winikerei were friends but had never been in a relationship.
The woman told police she only managed to get away after drugging Winikerei with codeine tablets.
"She was crying and had swelling and bruising on her face," he said. "She went there to let everyone know she was alright ... Police were puzzled and wondered what had gone on."
The pair met through friends at Taupo a few years ago and the woman regularly drove Winikerei anywhere he wanted to go for business as he didn't have a driver's licence, the court heard.
On October 15, 2008, Winikerei sent a text asking the woman to pick him up at Te Awamutu two days later, Mr Macklin said.
However, on the day she was to pick him up, she received a text telling her he was in Hamilton.
When she arrived, Winikerei wanted to go to Auckland.
Later on October 17, he got the woman to drive him to a Putaruru house where they had a cup of coffee and smoked cannabis together, Mr Macklin said.
When she wanted to go home to Taumaranui, Winikerei wouldn't let her go.
"He became heated and very unfriendly. She was very scared," he said.
The frantic woman tried to text and phone 111 from her cellphone for help but he stopped her from using the phone.
Winikerei grabbed her by the hair and dragged her through a kitchen and down to a basement of the house, Mr Macklin said.
"Her head and legs made contact with the stairs on the way down," he said. "She asked to leave. He said 'no' ... he was quite angry and heated and saying he was sorry to her."
After a short time, Winikerei took the woman back upstairs where he allegedly raped her on a mattress in the lounge.
Visitors came to the house throughout the weekend and Winikerei told them he had slapped the woman for getting "lippy" when they asked about her, Mr Macklin said.
Winikerei raped the woman again two days later, he said.
"He said to her he had feelings for her and he couldn't believe she never noticed it before," he said.
"He told her he wished they were in a relationship."
Later the same day, Winikerei demanded the woman make him a cup of coffee.
Out of "sheer desperation" to escape, the woman laced his coffee with codeine tablets she found in a cupboard, Mr Macklin said.
"She crushed [the pills] into a strong cup of coffee. She sat and just waited," he said.
She left when he nodded off.
Winikerei's defence lawyer, Max Simpkins, told the jury the case revolved around the issue of consent.
"He did have sex with her. What he doesn't agree is that he held her against her will," he said. "They were both consenting adults and agreed to have sex together."
For more articles from this region, go to Rotorua Daily Post