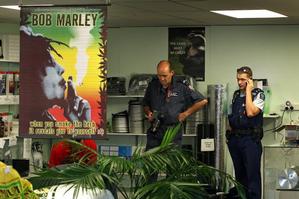 A national indoor gardening chain would not have turned a profit if it hadn't been knowingly supplying equipment and advice to cannabis growers, police say.
Directors, managers and staff from the 16 Switched On Gardener stores - which are advertised on national television - around the country have been arrested and charged as part of Operation Lime which targeted businesses responsible for the commercial sale of equipment used to grow cannabis.
Police yesterday raided indoor gardening stores, including Switched on Gardener branches in Auckland and Tauranga and GreenDay Hydroponics in Mt Maunganui.
They swooped on 35 businesses and at least 100 homes throughout New Zealand.
More than 250 suspects were arrested, and 750 charges are likely to be laid.
Police said Operation Lime would "break the cornerstone of the illicit cannabis cultivation industry".
They said that over two years undercover officers bought equipment, were given advice on how to grow cannabis, and even bought cannabis and other drugs over the counter.
Employers and employees were charged with offences under the Misuse of Drugs Act including supplying equipment used to cultivate cannabis, which carries a penalty of up to seven years imprisonment, and participating in an organised crime group.
More than 100 commercial cannabis growing operations linked to the businesses were found and dismantled during the operation.
A further 19 were discovered yesterday, and police also seized methamphetamine, LSD, ecstasy and firearms.
Police had yesterday not tallied the amount of drugs seized, but said it would have caused millions of dollars in social harm.
The growers involved were charged with offences such as cultivating and selling cannabis.
Detective Inspector Stu Alsopp-Smith, of the Auckland metro crime operations service, was in charge of the Auckland part of the operation.
He said most of the businesses involved made their profit from supplying tools to grow cannabis.
"We believe a number of the businesses wouldn't exist if it wasn't for the cannabis market," he said.
"If you want to make some inquiries about growing lettuce hydroponically under lights, go ahead, but I think you'd find you wouldn't be eating too much lettuce - it's a very expensive way of growing it.
"We believe most of the equipment sold by these outlets is used to cultivate cannabis."
Mr Alsopp-Smith said at least 30 people in the Auckland region had been arrested and about 12 businesses were targeted.
In the Bay of Plenty, eight people were arrested after police raided three businesses and the homes of their employees.
Employees of stores in Tauranga and Mt Maunganui - part of the Switched On Gardener chain - and Taupo, an independent store, will face a total of 50 drug-related charges.
In Christchurch, 11 people were arrested after police searched three business and six residential addresses.
In Dunedin and Invercargill, five people were arrested after raids on four businesses and two homes.
Deputy police commissioner Rob Pope said suppliers of illicit equipment to growers would continue to be targeted.
"Criminals buying equipment for their cannabis grows were observed and followed. If people purchase these products for illegal purposes, they can expect to receive a visit from the police."

* Businesses targeted: 35
* Residential addresses raided: 100
* Cannabis operations dismantled: 100
* People arrested: 250
* Charges expected: 750

- additional reporting: Isaac Davison