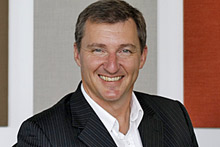 Simon Bilton was "excited and a little bit nervous" about having a pig-cell transplant in a type 1 diabetes trial at Middlemore Hospital in Auckland today.
He is the fifth type 1 diabetic to have been treated in the hospital's trial of the revolutionary therapy, which began last October.
Mr Bilton is the first to be given a significantly larger dose of cells than was given to his Middlemore predecessors and to patients in a similar, earlier trial in Russia.
He is also the first patient in the New Zealand trial to speak publicly about his involvement.
The insulin-producing cells, coated in a seaweed-based gel, are taken from piglets in the New Zealand herds of Living Cell Technologies.
Living Cell and its trial partners at the hospital are trying to find the optimum dose.
Results so far indicate the therapy improves control of blood-sugar levels and reduces the need for insulin injections.
Only one Middlemore patient's progress has been announced; the therapy is credited with ending his "hypoglycaemic unawareness", a life-threatening condition in which deep lows come on without warning symptoms.
This was important, Living Cell's medical director, Professor Bob Elliott, said today.
"This diabetes complication occurs in up to 17 per cent of long term type 1 diabetic people, and is responsible for up to 8 per cent of all deaths in type 1 diabetes."
Mr Bilton hoped the therapy would improve his diabetes, but said that even if it didn't, he was glad to have helped in the research.
"I think this is the best opportunity of creating a treatment that's going to work for people."
Despite his meticulous management of his condition, his blood-sugar levels swing high - putting him at risk of complications like kidney failure - and low, which can cause accidents and coma.
"I tend to go very high and very low very easily. Keeping it under some sort of control is quite hard."
People with type 1 diabetes need regular injections of insulin, a hormone that helps process glucose, because the immune disorder, whose cause is unknown, destroys their own insulin-producing cells.
The Middlemore patients have a severe form of type 1 diabetes characterised by very high and very low blood-sugar levels and hypoglycaemic unawareness.
The pig cells' coating protects them from the human immune system, so the patient does not need to take anti-rejection drugs.
It takes several weeks for the benefits of the transplants to become apparent because the capsules of cells take time to attach to the liver and other organs. This is followed by the formation of blood vessels around them.
The blood vessels do not penetrate the capsules, but allow glucose to diffuse into the capsules, where it promotes production of insulin.