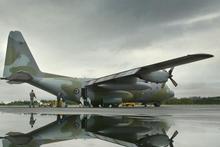 The Government is considering taking over Safe Air in Blenheim so the air force can finish having its five C-130 Hercules upgraded.
Though the $234 million upgrade started in 2005 it has run years late, largely because of software delays in work to be done by overseas contractors hampering the project.
Safe Air was meant to do its part of the upgrade once the planes returned from overseas, but delays meant staff set to do the job could not get on with it.
Defence Minister Wayne Mapp told Radio New Zealand this morning that discussions were under way and a decision would be made in a matter of weeks, before the deadline for crucial staff at Safe Air to be laid off.
Safe Air no longer wants the contract but the Government wants it done and is considering taking over the Air New Zealand subsidiary to get progress.
"It's our key interest to have the three aircraft upgraded, as I say the kits are there, the people are there and that's why we having the discussions," he told Radio New Zealand.
Earlier this year NZPA reported that software bugs were behind Air New Zealand's decision to lay off about 100 staff at Blenheim.
The first aircraft in the fleet went to Canada in 2005. It returned to New Zealand more than four years later, still with bugs in its software and was not accepted by the air force.
After the first aircraft upgrade Spar Aerospace, which won the original contract in Canada, went out of business and the contract was taken over by L-3 Communications.
A second upgraded aircraft had the same bugs in its software, and was also rejected by the air force. It was completed at L-3 in Waco, Texas.
The bugs delayed the Air New Zealand upgrade of the other three fleet aircraft, causing the airline to announce it would have to lay off 100 staff.
Dr Mapp previously said "legal remedies" were being considered against L-3 over the 2-1/2-year delay in delivering the aircraft to Safe Air for the upgrade work.
Today he said there would be no additional cost to have the contract completed.
The upgrade involved the replacement of mechanical, avionic, and structural components, and the design and installation of modern communications and navigations system to meet air traffic management regulations around the world.
The software problems did not cause problems with the performance of the aircraft.
- NZPA