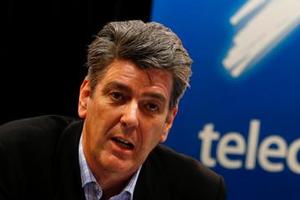 News of 200 job losses has prompted calls for Telecom chief executive Paul Reynolds to step up as a leader.
Independent telecommunications analyst Paul Budde said this was a crucial time for Reynolds, who was paid more than $5 million in the past financial year - a record for a chief executive of a New Zealand public company.
"I don't blame Paul Reynolds - this goes back a much longer time - but now is the time to show leadership and while we don't need to blame Paul, we really need to see him as a leader.
"He should stand on the barricades and guide the way forward. While cost-cutting is something that obviously needs to be done, I need to see vision from Paul, see where the company will be after this crisis in two or three years' time. That's the sort of things that have been lagging and that's what worries me because you could get a spiralling-down situation that gets worse rather than better."
During a press conference about the job cuts yesterday, Reynolds was questioned on whether he thought the board would approve his bonus this year.
He said it was up to the board to decide.
He declined to comment on whether he would award himself a bonus if he was in the board's position.
Mr Budde said there was no way Mr Reynolds should be getting a bonus in this climate. "I think these people are on a high enough salary to forgo a bonus for a year or two. I think that you have to take responsibility, you have to show leadership and that is also to be seen as a leader.
"We are at a very, very critical time for Telecom."