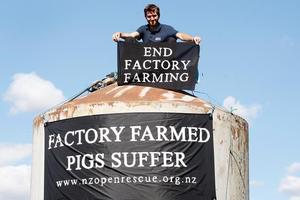 A student protester who chained himself to a pig farm silo has been cut down by police in a shower of sparks during the dark of the night.
John Darroch, 22, was held in custody overnight and will appear in Hamilton District Court this morning after yesterday attaching himself to a 12m-high silo near Cambridge to highlight issues around pig factory farming.
He had spent all day on the silo and was expecting to spend a cold night chained up high when four police cars arrived.
Fellow campaigner Rochelle Rees said police at the scene earlier had made no indication they were even going to ask Darroch to come down.
But police came prepared with an angle grinder, which they used to cut down Darroch after bolt cutters failed.
Police said a few officers had climbed the silo to arrest Darroch.
He was down in 15 minutes. "It happened so fast. It was a bit of a shock, really," Ms Rees said.
Animal welfare group Open Rescue supported Darroch in his protest, and there were two members at the scene when police arrived, waiting for another car load of supporters to arrive.
They were removed to the farm's driveway and all they could see were sparks flying, Ms Rees said.
Senior Sergeant Dave Simes, of Te Awamutu, said police went to the property shortly before 9pm to remove the man at the request of the farm manager.
"There'd been mixed messages about how long he intended staying up there. As a result, with the farm manager requesting the man be removed, a decision was made to evoke the Trespass Act and a number of staff climbed the silo to place the man under arrest," Mr Simes said.
Darroch was given a helmet and visor to protect him while the angle grinder cut through his chains.
Darroch, a vegan photography student, said yesterday he wanted to put pressure on Agriculture Minister David Carter to fix loopholes in the Animal Welfare Act.
He said that under the act animals must be able to express their natural patterns of behaviour. But the current code of welfare for pigs legalised the confinement systems that include dry sow stalls and farrowing crates - tight enclosures used to restrain sows after breeding, when they are particularly aggressive, and after giving birth, when piglets are most vulnerable.
"There are sows that are confined in spaces of 60cm by 2m for 16 weeks of their lives, before and after they've given birth which is particularly cruel," said Darroch.
"You've got mothers that can't turn around or lie down without getting sores, they're depressed and have just given up any hope ... it was distressing to see."
Last May, Mr Carter requested an urgent review of pig welfare that resulted in a National Animal Welfare Advisory Committee draft Code of Welfare for pigs. The document proposes new limits for the amount of time crates and stalls can be used after mating.
But Open Rescue spokeswoman Deirdre Sims told the Herald it still allowed for sows to be confined in crates for their entire lives until 2013.
"They are talking about banning sow stalls by 2018, which is just too far away, it needs to happen sooner."
SPCA executive director Bob Kerridge said the draft was headed in the right direction by recognising the cruelty involved with sow crates.
"But the debate will always be whether it goes far enough because for as long as we have that cruel practice continuing there will always be an animal welfare concern."
Mr Kerridge said there was a general acceptance of the use of farrowing crates for the pigs' safety but there was not an acceptance of their overuse.
The owner of the farm did not return Herald calls, nor did pork industry representatives.
- With NZHERALD STAFF