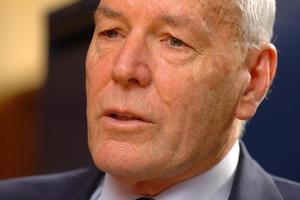 New Zealand's Catholic church is investigating five historical cases of alleged sexual abuse, and victims' counsellors say the situation here is no better than scandal-plagued dioceses overseas.
It has been eight years since New Zealand's Catholic church apologised to its parishioners about how it had historically handled sexual abuse cases, after admitting to 38 cases of sexual abuse by priests and other men in its ranks.
The apology came as a pledge to better handle victims' complaints.
An independent office was set up in Wellington about five years ago and headed by a non-Catholic former police commissioner, John Jamieson, to review cases and advise when a sexual abuse complaint is made.
Mr Jamieson said he had reviewed 35 cases in five years, including where complainants were not happy with how they had been dealt with.
He is currently investigating five cases.
All incidents he had dealt with were more than 20 years old, and most from the 1950s and 1960s, Mr Jamieson said.
Some of the subjects of the complaints were still alive and living in New Zealand, but some had since died, Mr Jamieson told Radio New Zealand today.
"If there's any criminal activity that is alleged then we would recommend if the person is alive to go to the police station as well."
However, some complainants did not want to have the police investigate their case, he said.
"They have their own reasons for that, but they don't want to go through a court process, they don't want it to be publicised, they want the church to deal with it."
In the past the church had paid money to some complainants to ensure the case did not proceed further, but that was no longer the case, Mr Jamieson said.
Those people would today not be held to conditions agreed at the time.
"People are free to talk to the media, they're free to talk to the police and free to go to lawyers and take any action they wish. They are free to ask me to do a review if they're not happy with it."
The Auckland diocese is currently fielding two complaints.
Its liaison for sexual abuse complaints, Monseignor David Tonks, said one was against a man no longer in active ministry and another was made by a woman who had lodged many complaints in many denominations and there was good grounds for doubting its veracity.
Since the diocese began keeping records about 25 years ago, it had fielded 32 complaints against 17 priests - but they were all historical cases, more than 20 years old, Monseignor Tonks said.
Mr Jamieson said the review process was as open and independent as any system in the country, and the church had "totally changed" in its dealings with sexual abuse victims.
A protocol for dealing with sexual abuse victims drawn up in 1998 has been reassessed frequently, as recently as last year. Complainants are always told they have the right to go to police.
Marist Brothers professional standards committee chairman Richard Dunleavy said the process had been found to be "very satisfactory".
But victims and their counsellors are far less optimistic.
"Things haven't improved. Things are no different. They have processes and procedures in place but they're pretty traumatising for victims to go through," said Male Survivors of Sexual Abuse Trust manager Ken Clearwater.
"[New Zealanders] don't believe it's as bad as it is overseas but it is - the cover ups, the shifting of the priests."
Alleged victims from many different cases keep coming forward, Mr Clearwater said.
Most were historical cases only because victims found it extremely difficult to admit they had been abused, particularly without some time passing.
"We're dealing with victims right throughout New Zealand from several Catholic orders," he said.
In recent months, an alleged victim of sexual abuse was shocked to learn his former priest and alleged sex offender had been reinstated to some ministry, said counsellor Chanel Houlahan, a former priest who left the church after rejecting its attitude toward sexual abuse.
It had been 15 years since the priest's alleged abuses were reported and it seemed the church considered that time had lessened the need to keep a potential paedophile away from children, Mr Houlahan said.
The victim had chosen not to go through the courts with his allegations at the time. He was "extremely unsatisfied" with the process he was going through after recently making contact again with the church, Mr Houlahan said.
"I just wonder if we're any better than some of these other dioceses and experiences overseas."
In 2002, toll-free help lines were set up by Catholic Orders in New Zealand to help victims come forward, and the church said it would be more open.
Today, however, the Society of Mary's help line is deactivated and St John of God's goes to an answering machine in Australia.
"All I can say is we really are trying as sincerely as possible," Monseignor Tonks said.
Counselling was paid for by the church and compensation was offered, either as a lump sum or in portions, totalling about $15,000, depending on circumstances.
People in the church had taken courses on dealing with sexual abuse victims and understood the courage it took to come out with a complaint, and they treated each one with respect, he said.
In recent months, the worldwide Catholic church has come under fresh scrutiny after new allegations of cover ups and sexual abuse in churches in the Netherlands and Ireland.
The Pope this Sunday avoided the topic of sexual abuse in his Easter Mass even as allegations swirled that he had been complicit in letting paedophiles stay active within the church during his time in Munich.
- With NZPA