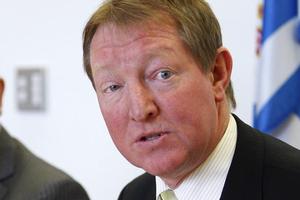 The taxpayer has so far unwittingly chipped in at least $320,000 for MPs embroiled in lawsuits - including $150,000 for two MPs to defend themselves in legal spats with another MP, NZ First leader Winston Peters.
Both National MP David Carter and former Act MP Ken Shirley yesterday confirmed they had received public money for legal costs after they were sued for defamation by Winston Peters relating to an inquiry into alleged corruption over scampi fisheries in 2004.
Parliamentary Services paid $114,000 of Mr Carter's legal bills and up to $40,000 for Mr Shirley's.
Mr Carter later reimbursed $5000 after receiving $19,000 in costs from Mr Peters. Mr Peters' costs in the cases would not qualify for taxpayer funding because it cannot be used to initiate lawsuits against others.
Mr Shirley said he had also received a further amount of up to $50,000 for a 2002 defamation action against him by a helicopter pilot and West Coast police over allegations about deer poachers.
His total bills in that case were about $150,000. Neither had revealed public funds were used at the time of the cases.
National MP Nick Smith yesterday provided further details about funding for the defamation case against him by Osmose, saying Parliamentary Services had so far contributed $122,000 toward his costs of $274,00.
The amounts were provided after the Herald revealed that the taxpayer had been footing some MPs' legal costs since a little known change to the rules in 2001 allowed public funds to be used to defend them.
The revelations have led to calls for greater transparency when such funding is approved. There is no requirement to divulge it because Parliamentary Services is not covered by the Official Information Act. The contributions come out of funds allocated to each party's leader's office and must be approved by the party leader and the Speaker.
Labour MP Trevor Mallard said there should be no provision to reimburse MPs for such legal costs, especially where they were involved in spats with one another.
"It seems extraordinarily stupid for taxpayers to be funding court cases between MPs, as in this case."
However, Prime Minister John Key said it was a legitimate use of taxpayers' money within the limits set down by the Speaker. He said he would not object to opening the books further.
"There's nothing to hide here. If someone is going to use taxpayers' resources to defend a legal case then I think taxpayers are entitled to know what that is."
Speaker Lockwood Smith said he had an "open mind" about whether that should be required or left to the discretion of each party leader and would put the issue on the agenda for the next meeting of the Parliamentary Services Commission.
Yesterday Mr Peters told 3News the use of public money for Mr Carter's defence was "rotten" and it should be paid back.
Meanwhile, Owen Jennings - the former Act MP whose costly defamation case is understood to have prompted the 2001 rule change - says he did not receive any taxpayer funding despite the change.
Mr Jennings was found to have defamed a Wool Board official by telling media he did not resile from a comment he had made while under the protection of privilege in the House.
He said he was told the new provision for legal expenses could not apply to his case because it had begun before the change in rules.
THE TALLY SO FAR
Nick Smith for ongoing defamation action by Osmose (2005 to present):
* Parliamentary Services $122,000
* Total costs so far $274,000
David Carter defamation action by Winston Peters (2004 to 2007):
* Parliamentary Services $114,000 ($5000 later reimbursed from costs)
* Total costs $158,884
* Awarded to Mr Carter $19,000
Ken Shirley (former Act MP)
1. Defamation action by Winston Peters 2004 -2007:
* Parliamentary Services (estimated) up to $40,000.
* Unknown costs awarded
2. Defamation action by helicopter pilot and West Coast police over allegations related to deer poaching (abandoned and settled out of court) 2002 to 2005:
* Parliamentary Servicesup to$50,000
* Total costs$150,000
* Costs awarded to him $35,000