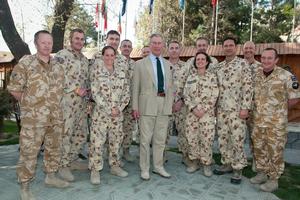 A group of New Zealand Defence Force personnel stationed in Kabul met the Prince of Wales during his trip to Afghanistan last month.

Prince Charles visited the area on March 24, where he met with representatives from all the Commonwealth nations currently serving in Afghanistan.

Colonel Mike Duncan, one of five Kiwis based at the International Security Assistance Force headquarters, said the prince chatted with them about how long they had been there and how they thought the mission was progressing.

"The Prince of Wales mentioned that he'd been trying to visit Afghanistan for some time, and was very glad to have finally made it.
"He said that Prince Harry's service in Afghanistan had given him a unique understanding of the conditions that troops on the ground are facing."

Prince Charles is the most senior member of the Royal Family to visit Afghanistan to date.
- NZHERALD STAFF