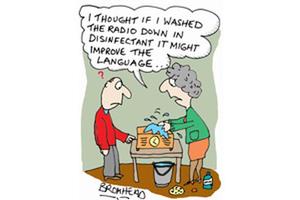 Never mind the bollocks, Kiwis are becoming far more accepting of swear words.
New research has found attitudes towards rude language on TV and radio are generally softening, but some words still have the power to offend.
"Bitch" is no longer the profanity it once was - with 26 per cent considering it unacceptable, compared to 38 per cent in 2005. And "bollocks" is now intolerable to just 12 per cent of those polled, compared to 23 per cent five years ago.
The number of people who thought the f-word was unacceptable decreased by 7 per cent since 2005 to just over half of those interviewed, a drop of 19 per cent since 1999.
The only word on the list to increase in offensiveness was the c-word.
In 2005, 70 per cent found it unacceptable. But in the latest survey, it had edged up to 74 per cent.
The AC Nielsen What Not To Swear poll, commissioned by the Broadcasting Standards Authority and released to the Herald on Sunday, surveyed 1500 people.
Of the 31 words that were included, 14 were considered unacceptable by significantly fewer people than when the last survey was carried out in 2005.
Dominic Sheehan, the BSA's chief executive, said it was difficult to draw conclusions from the increase, but thought it perhaps showed moral standards weren't slipping as quickly as some thought.
"We've had more decisions about it [the c-word] in the last three years than we have had in the last 18 years, which perhaps means it's being used more, especially on TV," says Sheehan.
"And because it's being used more, people are saying 'I don't want to hear that word on TV'. "
A new addition was "retard", included after the furore around Breakfast host Paul Henry's reference to singer Susan Boyle.
The word came in at number 11 on the list.