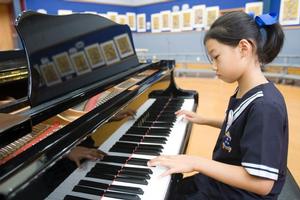 She may have been up to three years younger than all the other competitors, but that didn't stop 10-year-old Michelle Yao from beating more than 700 other students in a prestigious music examination.
Michelle, a student at Diocesan School in Auckland, learned this week that the 93 per cent she earned in her grade-six Trinity Guildhall piano exam was the highest in the country - and across all of the music exams for that level.
While that in itself is a great achievement, what made Michelle's success even sweeter was the fact that all her competitors were at least two to three years older than her.
The Auckland youngster, who has been playing the piano since she was 5, told the Weekend Herald that news of her results was a huge "surprise".
She practises for between an hour and a half to two hours every day - sometimes staying up as late as 10pm in order to fit her music in with homework and all her hobbies.
Along with practice, Michelle credits her mum for helping her when times get difficult.
"I'm really thankful for my mum because she really encourages me when the songs get difficult."
The Trinity Guildhall exam results are internationally moderated.
The director of arts at Diocesan School, David Gordon, said: "To achieve the top mark in New Zealand means Michelle has truly achieved a very high international standard."
Michelle, who is taught the piano by Yong Qu and also plays the violin, likes doing maths and English. She hopes to be a doctor or a vet when she grows up.
In the meantime, she plans to keep practising and get better and better at piano.