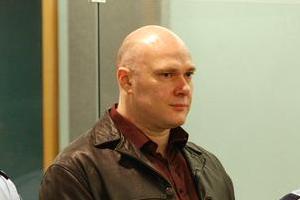 The family of Karl Kuchenbecker, murdered by Graeme Burton in 2007, is one of two families beginning proceedings tomorrow to sue police, the Corrections Department and the Probation Service.
They would be joined by the family of 20-year-old Debbie Ashton, whose car was hit head-on by another driven by disqualified speeding driver Jonathon Allan Barclay in 2006.
The families said Burton and Barclay should have been in prison when the victims were killed.
The families' lawyer Nikki Pender would lodge a statement of claim under the Occupational Health and Safety Act at Wellington District Court tomorrow, the Sunday News reported.
Miss Ashton died after Barclay's car crossed a centre line and hit her car in December 2006.
The previous month, Barclay had escaped a return to prison when he was convicted of drink driving.
He was on parole at the time and had been given a new identity under the witness protection programme, meaning he was treated as a first-time offender and fined $500 and disqualified from driving instead of being sent back to jail.
A ministerial inquiry report revealed Police National Headquarters, Corrections and a probation officer were aware Barclay was using his new alias when he appeared in court, but failed to notify the judge.
Mr Kuchenbecker was shot and killed and four others were wounded by Burton while he was on parole in January 2007.
Wellington coroner Garry Evans said Mr Kuchenbecker's death might have been prevented "had the actions, procedures and processes of the [Parole] Board, the [Corrections] Department and police been different at various points in time".
Counsel for the police, Corrections and the Probation Service would have seven days to respond to the lawsuit.
- NZPA