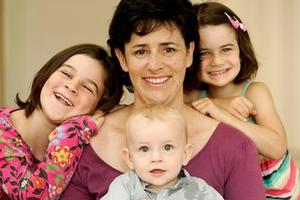 Fiona Paul had heard babies got bigger the more you have - but was still stunned when number three weighed in at 4.3kg.
Lachlan arrived last June 1kg heavier than eldest sister Mackenzie, 6, and 500g bigger than Isla, 4.
Fiona, who lives with her husband and children in Auckland, ate and exercised similarly in all pregnancies - but gained the most weight with her lightest child.
She gained only 5kg with Lachlan, now nine months, but suspected early on he was going to be big.
At 26 weeks "he had almost filled up my whole body", she said, laughing. "I was getting skinnier and skinnier and he was getting bigger and bigger."
Lachlan was born as big as many three month olds and too big for clothes for the youngest babies.
Fiona reckons his size was due to her body getting more efficient at carrying children.