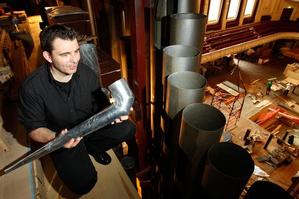 The Auckland Town Hall organ has reclaimed pride of place in the Great Hall after two years of reconstruction in Germany.
Alterations in the 1970s caused the organ to lose its Romantic style and power and growing concerns over its lacklustre sound prompted the $3.5 million restoration.
The Auckland City Council paid $3 million, and the rest came from the Auckland Town Hall Organ Trust.
The organ has more than 5300 pipes - the largest about 10m long and weighing 120kg - and restoration took 27,000 hours.
Mayor John Banks said the restored organ was more than just a replica of the original.
"It's a 21st-century instrument in the tradition of the finest concert hall organs, a combination of the best of old and new technology."
Councillor Toni Millar, the spokeswoman for the restoration project, said: "This is the beginning of a new era for us.
When our organ is played now, you don't just hear the music, you feel it."
The organ was given to the city by former Mayor Sir Henry Brett when the town hall was officially opened in 1911.
The rebuilding work was done by German specialists Orgelbau Klais.
Restorer Philipp Klais and his team are travelling to New Zealand for the first public performance on March 21.