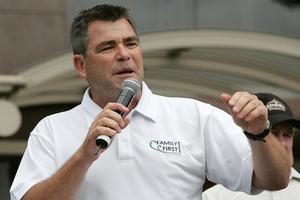 The controversial three strikes bill is a good start, but is not tough enough, says lobby group Family First.
In a written submission to law and order select committee, Family First said the bill discriminated on grounds of age, and the list of qualifying offences did not include the manufacture or sale of the drug P.
Despite the battle on P being a priority for the Government, Police Minister Judith Collins, who is responsible for the bill, said drug offences are not being considered for the three strikes rule.
The committee is considering the Sentencing and Parole Reform Bill, which sets a standard sentence after one strike, a sentence with no parole for the second strike, and the maximum sentence for the offence and no parole for the third.
There are 36 offences, ranging from murder to compelling an indecent act with an animal, that qualify as a strike.
Family First national director Bob McCoskrie said aggravated assault and assault with intent to injure should be added to the list.
But excluding youths was the worst aspect of the bill.
"This means that offenders such as Bailey Junior Kurariki, and Kerikeri teenager Hermanus Kriel, who was convicted last month for the murder of Liberty Templeman, receive no warnings because of their age," he said.
He later clarified that the criminal age of 14 and over should still apply, and it should include 12- and 13-year olds in cases of serious offences once the Youth Courts Jurisdiction and Orders bill becomes law.
"Just because a young person commits a violent crime doesn't mean that it's any less impact on the victim, compared with when an adult commits a violent crime."
When asked if youths having a scrap would be caught under the Family First version of the bill, Mr McCoskrie said police would have to decide which cases merited a charge.
He was against including a clause in the bill clarifying police discretion, but adamant that assault with intent to injure should be included.
"It's assault. It has a violent component. And we're seeing examples of it where there is violence with intent to injure is carried out.
"We're talking about violent acts that freak people out, make victims and make people very scared."
He argued that previous convictions for strike offences should be retrospective; three or fewer convictions in the past 10 years should count as one strike, four should count as two.
"Recidivist violent offenders should not be given a clean slate."
The committee is due to report back on March 30.

Family First advice on three strikes:
* Add aggravated assault, assault with intent to injure, and making and selling the drug P as offences that qualify as a strike
* Give a sentence to a second strike offence; under the bill a judge could order a sentence that may not include imprisonment
* Remove age limit of 18 so a conviction for any qualifying offence applies irrespective of age
* Including previous offences (three or less qualifying offences in the past 10 years would be one strike, four would be two strikes)